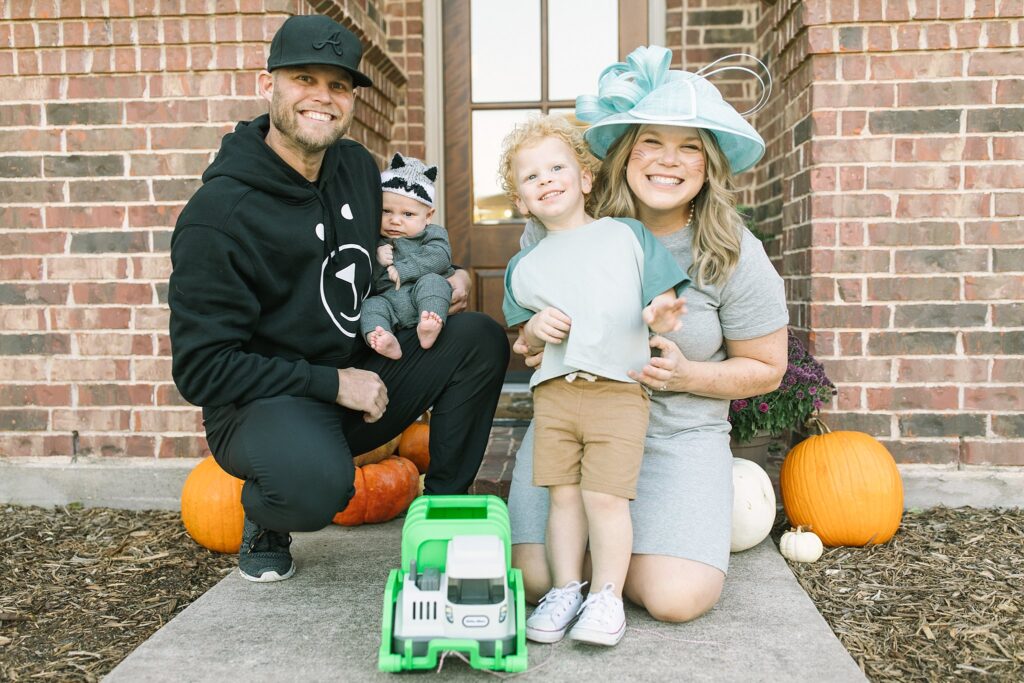 Kaden doesn't watch many shows, but he does watch Netflix's Trash Truck… and loves It! I think It is truly one of the best shows for children! Trash Truck follows the story of a little boy and his best friend who is a trash truck. Together with their group of friends they go on adventures and learn different skills. Their friends are made up of a raccoon, a bear, and a mouse.

Trash Truck is such an amazing show! I find myself enjoying the episodes. It is almost as if you step back into your childhood mind of make believe. I googled the show and found out that the writer is in fact a father, and the show is loosely based on his kids. He watches them play and gains inspiration for the show! It is so clever and it's not annoying, like most kid's shows. I sit with Kaden and watch It often.
This Halloween we decided to dress up as the characters from Trash Truck because Kaden already had the entire outfit of the main character, Hank. And, he has a big trash truck that he loves to play with!! So, It was very fitting. Aaron dressed up as Walter, the bear. Cole was the raccoon, Donny; and I was Ms. Mona the Mouse.
You know I LOVE Halloween, especially the costumes! I think It is so fun to try to create costumes that are simple and DIY, yet recognizable (at least if you know the characters). Kaden's outfit was easy! He had the shirt that Hank wears, some khaki shorts and white tennis shoes. For Cole, I ordered a beanie from Etsy that looked like a raccoon and ordered his little romper from Walmart. Aaron's character is a black bear, so he wore his black joggers and I ordered him a black sweatshirt from Walmart. So that you could tell he was a bear, I drew a bear face and my sister-in-law printed It on her Cricut Air! We decided to print It on vinyl instead of iron on so that he could peel It off after Halloween and keep the sweatshirt!
The characters were made for us. I dressed up as Ms. Mona! She is the cutest little mouse who is always having tea and wearing her pearls! In the show she wears a beautiful purple hat with flowers. I ordered a grey dress from Walmart, borrowed some pearls and then rented the BEST hat ever from Dallas Tea Party Company! It wasn't purple, but It was perfectly Ms. Mona! They were kind enough to arrange delivery and pick up for the hat! And, renting was more cost effective than buying a beautiful tea party hat. I couldn't have been happier! Thank you so much, Dallas Tea Party Company!
While It was so fun to get dressed up, It was even more magical to watch Kaden become Hank! He ran around the neighborhood pulling his trash truck behind him and filling It up with candy. Although this wasn't his first Halloween, It felt like It was because It was his first time trick or treating!
He LOVED getting candy and he couldn't believe that people were just giving him candy at the door! He even got a jar of play-doh at one house.
When we were all getting ready, Kaden was watching me paint my whiskers on my face and he said "Oh mommy… Ms. Mona!" And he started giggling and smiling ear to ear. Watching him see his favorite characters come to life brought me so much joy as well! I can't wait to see what he will want to dress up like next year!