Thanks so much to Emma Miller from Vow to be Chic for her guest blog post! I hope you enjoy!
Is your bro an adventure seeker? Does he enjoy getting up close and personal with a grizzly or cooking over wood? If he wants to follow in the footsteps of Bear Grylls it's time to consider an outdoorsy groomsmen gift.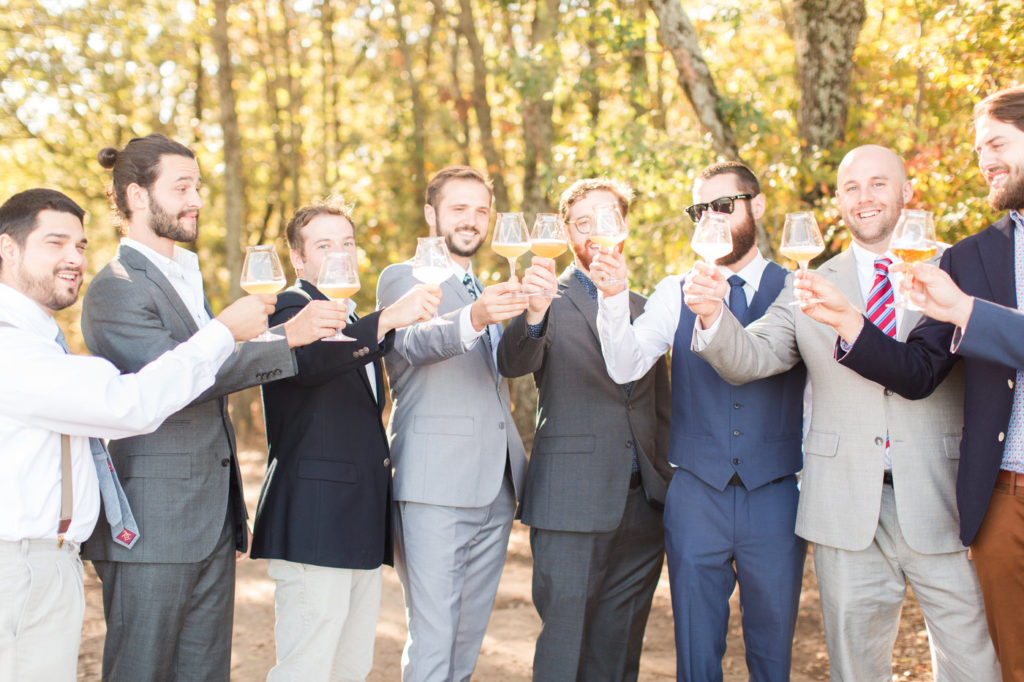 Perhaps you went to band camp together when you were a wee lad. Or maybe you've camped under the stars while hunting for your evening meal. Meanwhile, let not forget about those pit peeps.

You know those buddies who love a good old fashioned barbeque and seek to showcase their culinary skills. No doubt you have had your groomsmen round for a cook-off or experienced a few cold ones on a long summer day.

Whether he has a penchant for sizzling steaks or basting burgers, think about a practical wedding gift such as a spatula, a tool grill set or custom bbq gloves. Adding your man's details will ensure he can take away a treasured keepsake reminding him of your momentous day.

And there are a number of different outdoor options for your best men. Show your appreciation with a gift that he will be able to use long after the open bar shuts. Shrinking violets need not apply. The hunt is definitely over as we round up our top outdoor groomsmen gifts.

Personalized Camouflage Sit & Sip Insulated Cooler Seat
Great for grills, hunting or fishing by the lake or a beach barbecue, look no further than this personalized cooler with a built-in seat.

Suitable for any huntsman or avid outdoorsman, spoil your man with this two in one groomsmen gift. Decked out in a camo style, it provides first-rate insulation as well as an inside pocket and strap.

Crack open a cold one with your bros and remember your day with great fondness. Holding up to a dozen bottles of your man's favorite beverage, benefit from premium portability with lots of space for all those essential snacks.

It doesn't matter if you are going on a bear hunt or just hunting for game. Whatever situation your buddy finds himself in, make sure he is well-prepared thanks to this handsome wedding gift.

With additional pockets to store his keys, he need not fear if he gets into trouble while the portable stool ensures maximum comfort at all times. Now that's worth a well deserved sit down.

Buy it at MYWEDDINGRECEPTIONIDEAS.COM

Personalized Leather Wallet & Hunting Knife Gift Set
Money and hunting? Hitch a lift or an Uber if you get stuck in the woods thanks to this wallet and knife gift set.

Kill two birds with one stone and give your man not one but two practical gifts he can use again and again. Made from stainless steel the knife is quite simply a cut above the rest.

Excellent for handling different types of meat or fish, your man will thank its first-class precision and butter-like smoothness. Durable and certainly built to last, make sure he can tear through any trees for firewood or build a campfire for supper under the stars.

Presented in a sleek wooden box, we also love the plush leather wallet that may come in handy if slumming it proves to be all too much.

Buy it at GROOMSMENGIFTSOURCE.COM

Personalized Groomsmen BBQ Grill Tool Set
There is no doubt that grilling brings men together. And what better way to celebrate your passion for all things on the cue with a custom BBQ grill set.

Cookout or cook-off with aplomb while sitting back and relaxing with your buxom buddies. Give your bros all the essential equipment he requires to cook up a storm and create a blazing inferno.

Whether cooking on gas or coal, we don't care with this super stylish groomsmen grill accessory. In fact your pals will look for any excuse to show off their creative juices. Your bro will not forget whose ruling the BBQ roost as you can make your own mark on this set of stainless steel tools.

Featuring a contemporary bamboo color, this three-piece kit comes complete with a fork, pair of tongs and spatula. Whack on personalization such as your buddies name, initials or the wedding date for a one of a kind groomsmen gift.

Buy it at AMAZON.COM

Leatherman Cobalt Blue Signal Multi-Tool
For those who have that one true loyal fishing wingman. The one who you rely on for those late-night trips or lazy Sunday afternoons, why not consider this all-encompassing multi-tool.

Catch your man's eye with its striking blue design and make sure he never leaves port again without it. And this gift has more features than a Sony Playstation. The one bit of kit for his tackle box, make room for this smart gift.

Don't cast off just as we give you the lowdown on this phenomenal limited edition for the outdoor groomsmen. With cobalt blue stainless steel handles, select from a dizzying array of stainless steel tools to assist if you are miles from civilization.

Brilliant for hiking, camping, boating or out on a hunt, we like the emergency whistle that will capture someone's attention if he is in a pickle. But what else does this dazzling tool include? How about a can opener, saw, awl, carabiner, pliers, hammer, replaceable wire cutters and diamond-coated file among other vital tools.

Engrave your special message and you have a one in a million outdoor gift for your wingman. So reel it in boys…this is going to be a big one.

Buy it at SWISSKNIFESHOP.COM

Black Zippo Hand Warmer
Combat Mother Nature in the best possible way with this fashionable hand warmer.
Focus on keeping warm in the palm of your hand and enjoy some downtime with your bros. After all, having cold hands will simply get in the way, right? Constructed from top quality metal, this groomsmen accessory is perfect for activities during the winter months.
Light up his adventure, excursion or expedition and take advantage of up to 12 hours of heat! Get back to being a hunter-gatherer or cook up a storm over an open fire. Lightweight and compact, it can fit into your bros pocket seamlessly while it is easy to fill and reusable.
Remember to let it burn baby burn.
Buy it at ZIPPO.COM