I LOVE watching Kaden with our Pups! He walks up to them and pets them, asks for kisses, gives them hugs and then runs away shrieking with glee! It makes me so happy because I remember fearing that he and the dogs would have a rocky relationship. And, trust me, sometimes it is. But for the most part, they appreciate that he shares his food with them and the world is set right. I won't be surprised if pretty soon Kaden is saying "Gus, quit" or "Gunnar, no" since they are usually trouble makers.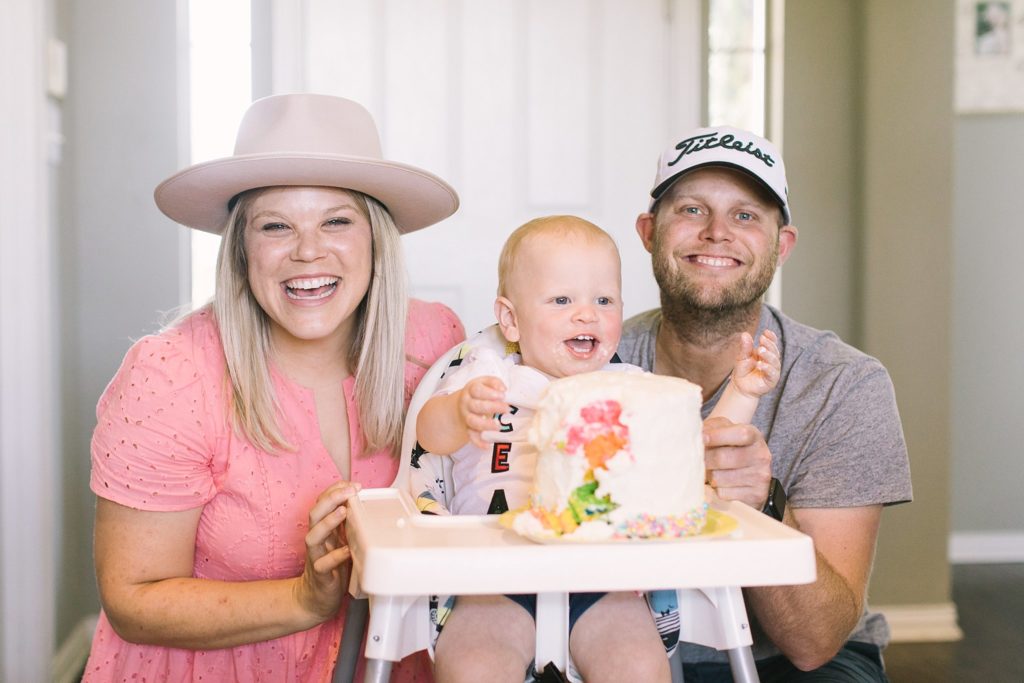 When Aaron and I were talking about what kind of birthday party to throw Kaden for his 1st birthday, we came up with so many ideas but decided to wait to see what he liked the most as we got closer to one year. His love for his puppies only continued and we just knew it had to be a "puppy paw-ty".
You know my head spun into full planning mode. I always loved when my mom threw us parties because they were so thoughtful. They weren't too over the top and they always were fun and had personal touches. Since my family was coming into town, I thought it would be fun to make a few things ourselves and try to put everything together. So, the few months leading up to the party I started ordering a few things every month so that it wouldn't add up too quickly.
The very first thing I started with was invites! My friend Taylor has the cutest Etsy shop and her invitations were perfect for Kaden's party!!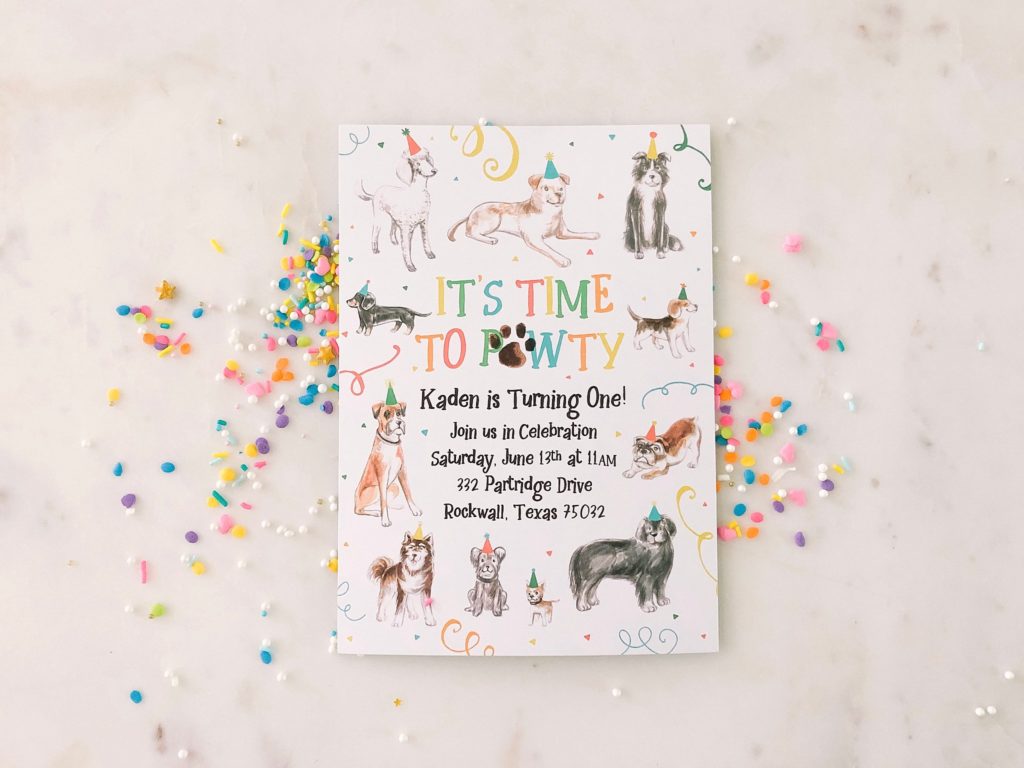 I found these adorable BOW WOW napkins on Etsy, fun puppy party plates, party hats, and some colorful birthday garland, but the one item that set the tone for the entire party, were the puppy party cake toppers!! I found this too-cute-for-words Etsy shop called Sugar Hippo. They had the perfect Gus look alike cake topper. It's always so hard to find a mini Aussie, so I went with the cute Dalmatian instead! The shop owner was so nice to work with and she custom made the puppies for the colors I asked for. The last thing I bought as far as decorations go… a balloon garland! I purchased this on Amazon and we were terrified when we opened the box to find fishing wire, but it was actually easier and quicker than putting the balloons through the tape! I loved it! And, it lasted for a whole month before I finally took it down.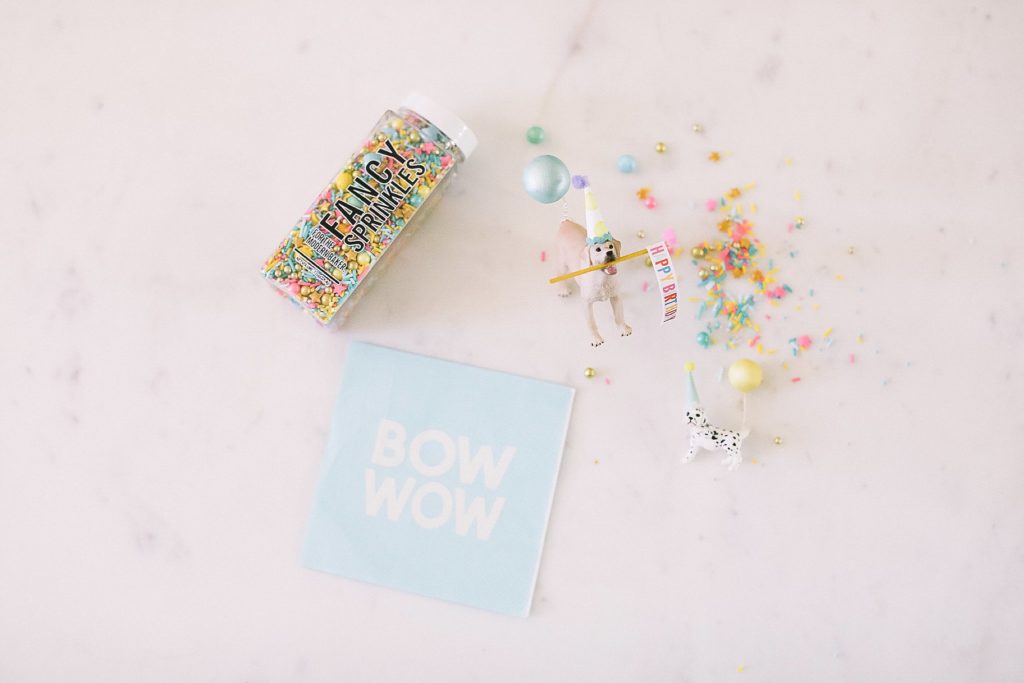 You can't have a party without sprinkles, and I had found the most amazing sprinkle company in LA called Fancy Sprinkles, so I ordered the Tan Lines sprinkles to put on the cake and the cookies! Now cookies were so fun! You have probably seen me talk about Cookies by Chrysta! I LOVE her! She is so sweet and kind and her cookies are absolutely tasty and beautiful! I ordered a fun cookie decorating kit from her during quarantine and had asked if she would make me a kit for Kaden's puppy party when it came around, and she was so sweet to do that for me! So, I got to have fun with my mom and sister decorating cookies for Kaden's party, while Chrysta did all of the hard work baking and making icing bags. She was really so amazing and everyone loved the cookies! They weren't as beautiful as they would have been if she would have decorated them, but they were a fun activity for my family and they added a personal touch!
You also know how much I am obsessed with Cake Bar Dallas in Trinity Groves! I think their cakes are the BEST! So that was the plan, but my sister, Kaden and I were walking by Williams Sonoma while waiting to pick up my parents from the airport and we saw a rainbow cake making kit from Flour Shop. I wouldn't have put this all together, but when I was uber pregnant with Kaden, my sister and I wandered into Flour Shop on our way to the Marvelous Mrs. Maisel pop-up in SoHo. When we saw it in William Sonoma, we simply knew we had to make it for Kaden! It was yet another personal touch for the party. And, I have to say that this mix was so easy and even more delicious than I remember! Plus, it was fun to divide the batter and dye the different layers different colors. I would definitely do it again!
For the food, we kept it simple and served hot dogs, salad, watermelon and puppy chow. The puppy chow was so good! That is just too addicting for me to have around all the time. What a treat. And, Aaron chose two dogs beers that we served as well as a fun little spritzer!
For Kaden's outfit, I had seen these adorable CELEBRATE shirts that I wanted to get him. But, unfortunately they were out of Kaden's size. So, I ended up ordering him a little v-neck from Amazon that was Burt's Bees brand and purchased some iron-on patches that spelled CELEBRATE from Etsy. It worked perfectly! And he looked adorable!!! I still can't believe my baby is all grown up!
While all of the decorations and food were amazing, it was so fun to celebrate with our families. Everything was really laid back. We partied, watched Kaden eat his cake… (he was more hesitant than I thought he would be) and then we swam. The actual party day was family only and a couple close friends, but we ended up doing a drive by party the next day which was SO fun too!! We felt so loved and we were so grateful that everyone made Kaden's first birthday so special. Thank you so much!
| Shop This Post |