The Last Time I Lied by Riley Sager was really a great read! The story grabbed me right away and I was left wondering at the end of each chapter. You were left in the dark until the very end of the book, which made it a book you didn't want to put down. I was reading this whenever I could find time.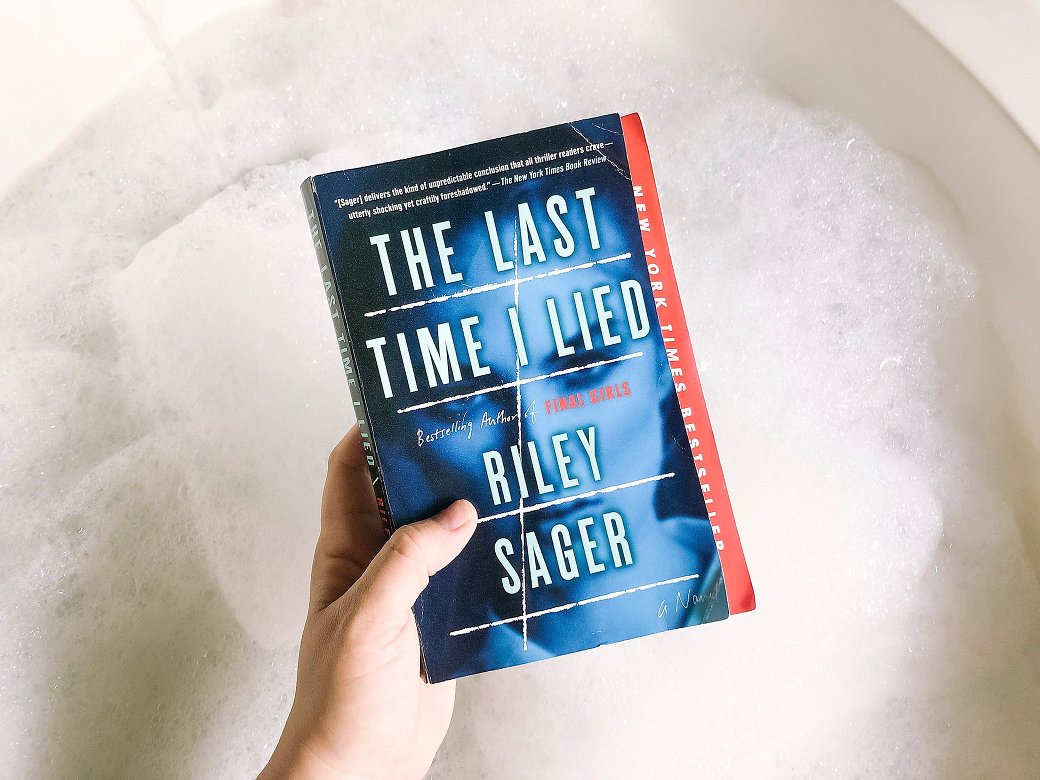 P I N____________________save this for later
"Two Truths and a Lie. The girls played it all the time in their tiny cabin at Camp Nightingale. Vivian, Natalie, Allison, and first-time camper Emma Davis, the youngest of the group. The games ended when Emma sleepily watched the others sneak out of the cabin in the dead of night. The last she—or anyone—saw of them was Vivian closing the cabin door behind her, hushing Emma with a finger pressed to her lips.
Now a rising star in the New York art scene, Emma turns her past into paintings—massive canvases filled with dark leaves and gnarled branches that cover ghostly shapes in white dresses. The paintings catch the attention of Francesca Harris-White, the socialite and wealthy owner of Camp Nightingale. When Francesca implores her to return to the newly reopened camp as a painting instructor, Emma sees an opportunity to try to find out what really happened to her friends.
Yet it's immediately clear that all is not right at Camp Nightingale. Already haunted by memories from fifteen years ago, Emma discovers a security camera pointed directly at her cabin, mounting mistrust from Francesca and, most disturbing of all, cryptic clues Vivian left behind about the camp's twisted origins. As she digs deeper, Emma finds herself sorting through lies from the past while facing threats from both man and nature in the present.
And the closer she gets to the truth about Camp Nightingale, the more she realizes it may come at a deadly price."
This is a fun thriller that is definitely worth a read. Here is Chandler, one of our #mtaybookclub members, to tell us her thoughts.
1] Why did you choose this book? I was hooked from the first page! I am always here for a good mystery/thriller, but from the first page this seemed better than any mystery I'd read before. I knew if I was in from the beginning, everyone else would be too!
2] What is one thing you loved about the book and one thing you could have lived without? How would you rank this book on a scale of one to five? Something I loved about this book is how the story/mystery was repeating itself, in that she experienced something when she was younger at camp and then the same thing happens when she returns. I loved how it was a lot of the same characters from the childhood experience and the adult one. It really gave insight into who the characters were and what motivated them. I would rate this book a 5 out of 5. I was in it the whole time and could not put it down!
3] The author leaves cliff hangers a lot throughout the book. When you finally found out what happened, how did you feel? Were you able to guess the big reveal? I did not predict the ending at all! Throughout the book my thoughts kept changing as I learned more about the different characters. I thought I knew the answers but was always surprised. I felt satisfied with the ending, even though it feels like it leaves you on one last cliffhanger!
4] Would you recommend this book to others? I would definitely recommend this book to others, in fact, I have already recommended it to so many people! If you love a good mystery look no further!
Overall, The Last Time I Lied was a big hit with our book club! We have a lot of mystery/thriller readers in our bunch and this was a great choice!
To Shop more #mtaybookclub pics click here. 
Keep Reading Similar Posts…
February's Book | The Royal We
January Book Club | Home Work by Julie Andrews
Countdown to Our Favorite Book of 2019