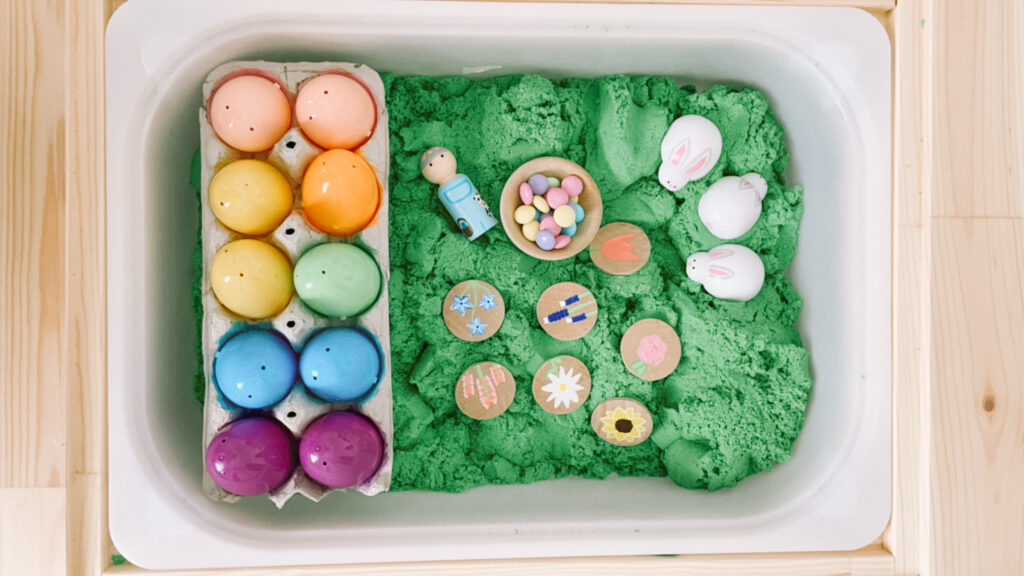 I love sensory bins!! Especially since we got this cute Ikea table to hide the mess inside! Our sweet cousin Caroline sent us some of her cute creations and I decided to use them for an Easter sensory bin! We had green kinetic sand already, so I decided to add the cute little peg people she sent me to the filler. Here's how we made our Easter sensory bin.
Filler
I had purchased the green kinetic sand on Amazon awhile back for an insect sensory bin that I was trying out, but I didn't have enough sand! I quickly realized that I would need 2-3 of the 2 pound bags of sand to fill up our tub. So, Aaron so nicely went to Target to grab a couple more bags for us to use! If you haven't touched this sand, it is the strangest texture! I think I enjoy playing with It just as much as Kaden does.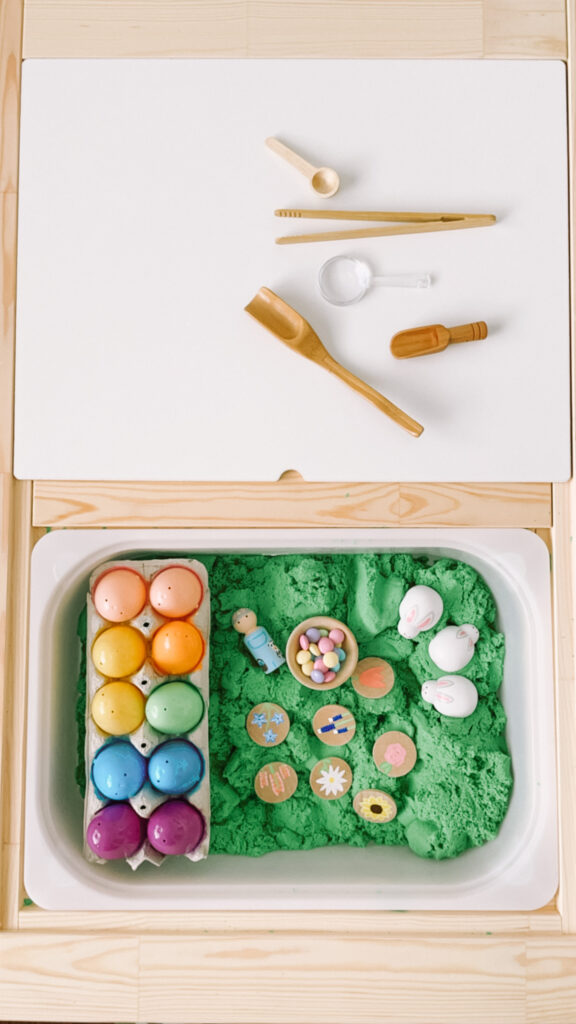 Items
Carline's shop is called Dancing Waffles and she is so creative!! She is constantly creating new things, custom orders and I just saw that she is also putting together sensory bins! So fun! I love the adorable bunnies she sent us for Easter, along with an assortment of beautiful Spring flowers! Kaden's favorite is the little Easter peg doll that is wearing a dress with a cow on It. He loves anything that has to do with cows! She knows him well!
I had purchased a set of 10 plastic Easter eggs at the Target dollar bin and I think they are perfect for this box!! Kaden loves to try his hand at opening and closing things or taking lids on and off, so these eggs will be the perfect challenge.
Aaron and I save our egg cartons so we can get farm fresh eggs, so I took one of the cardboard cartons and cut It down to ten spots. Then, I painted each spot in the carton coordinating colors to the plastic eggs so he can use it as a color matching activity as well!
Just for fun, I added a tiny dish of Easter candy that he can scoop into the eggs or hide in the filler. This way he has a fun, tiny object to move around as well!
Tools
Recently, I purchased a set of tools from Etsy! They are adorable and they are the perfect assortment for sensory play. I decided to use the scoops, bowls and tongs.
Play
Once you have all the things, it's time to let your little one use their imagination and play! I usually open the box for the first time and show Kaden how I would play with It, without talking. I just show him things he can do. Then, I let him go to town!!
I hope you all have a very Happy Easter!
|Shop This Post|