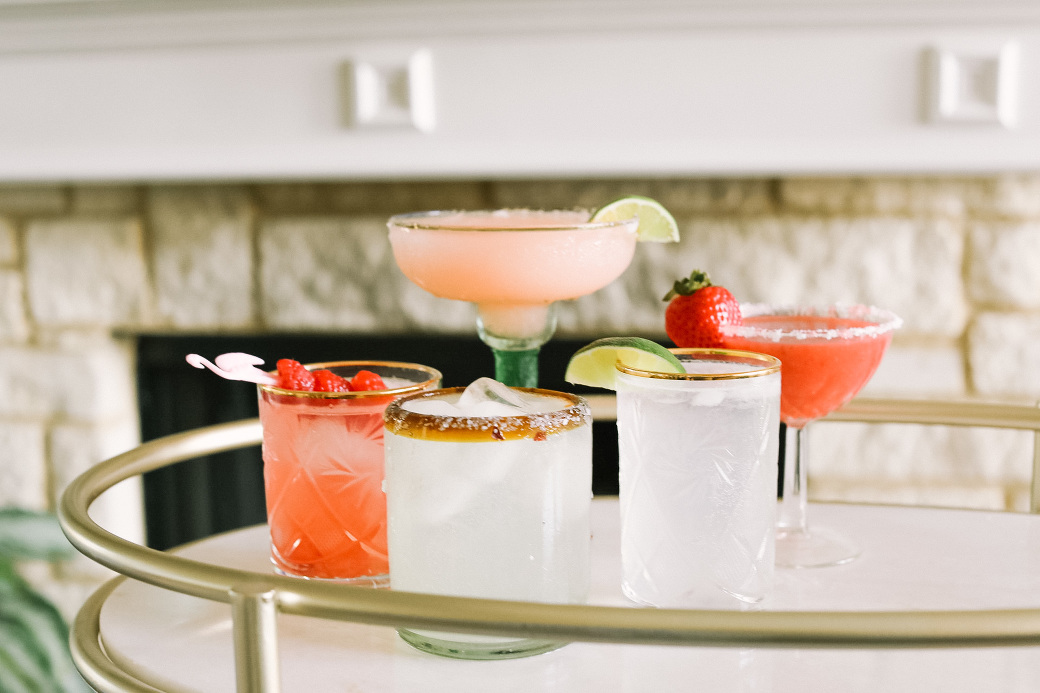 P I N____________________save this for later
I love going out to a restaurant and ordering a cocktail. I have always been fascinated by how they mix and make all of the drinks! There is such an art to it! Over the years, Aaron and I have slowly collected some mixing tools and bar accouterments of our own! It has been fun to try to recreate some of our favorite drinks together!
In my opinion, there is nothing better or more refreshing than a margarita! So, Aaron and I decided to mix up five margarita's for you to try on Cinco De Mayo!
My friend Beth told me that she uses essential oils in her margaritas at home to make the flavor pop, so we tried her fabulous blended margarita… and let me tell you, this may be my new favorite blended drink! It is amazing and so simple to make!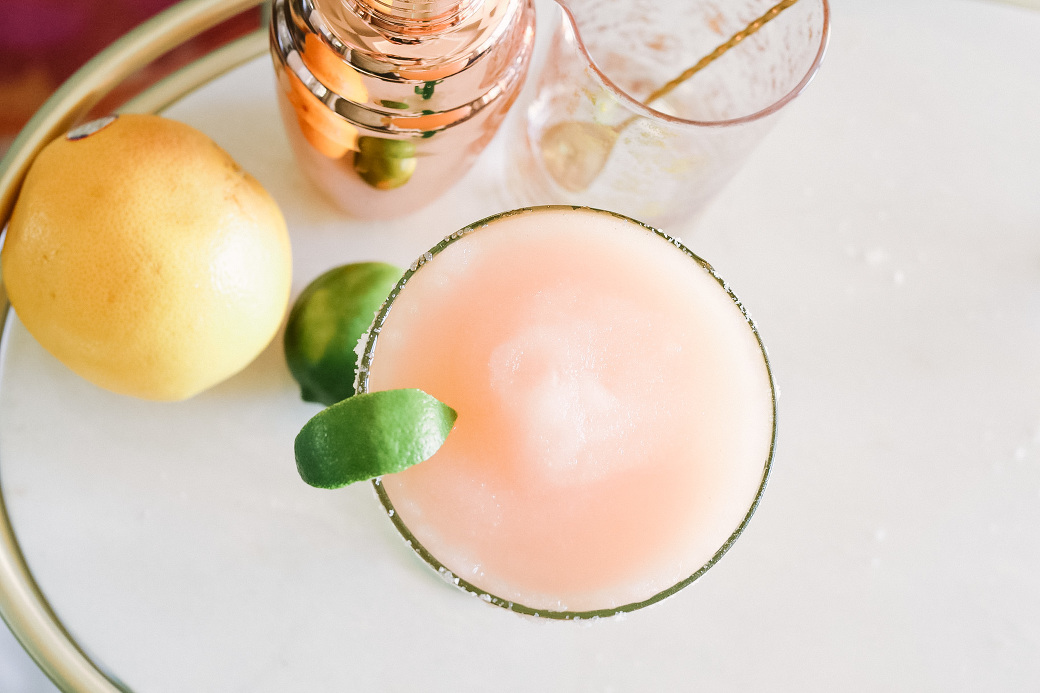 P I N____________________save this for later
Beth's Blended Citrus Margarita
Ingredients:
6 oz Jose Cuervo Grapefruit Tangerine Mix
1 1/2 cup ice
2 Drops Grapefruit Essential Oil
2 Drops Lime Essential Oil
2 Drops Tangerine Essential Oil
Directions:
Run the lime around the rim and dip the rim in salt (optional). Set aside. Place all of the ingredients in a blender. Blend until smooth. Pour into salted rimmed glass. Garnish with a lime wedge and enjoy.
When my parents were dating, they would save money going out by dropping by restaurants and bars for happy hour! They soon named themselves Fred & Freda Freeloader and it's been a joke that constantly resurfaces! I thought it only appropriate to name my dad's Skinny Margarita I love so much the Fred & Freda Skinny Rita! This is a light, perfectly tart skinny version of a classic and you will LOVE it!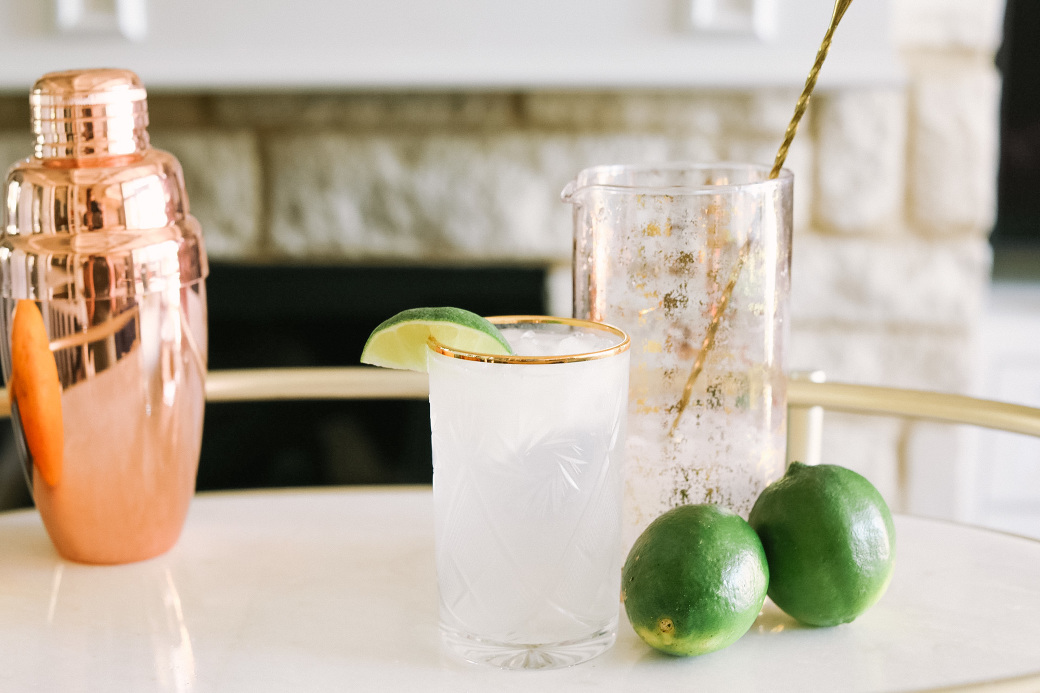 P I N____________________save this for later
Fred & Freeda's Skinny Rita
Ingredients:
1 1/4 oz Tequila
1/2 oz Triple Sec
4oz Lime Soda Water
tsp Lime Juice
1 cup ice
Directions:
Place all ingredients in mixing cup. Stir and pour into glass using a strainer. Garnish with a lime.
My Friend Katie Rose is always coming up with beautiful ways to entertain and this cocktail does not disappoint. Her recipe is specifically for a party, so make sure to have friends to share this pitcher with! See the full, original recipe here. 
P I N____________________save this for later
The Rose Table's Strawberry Margarita (Click Here for Original Recipe)
Ingredients:
1 pound strawberries, hulled and rinsed
1 cup tequila
1/2 cup simple syrup
1/4 cup Grand Marnier or favorite Orange liquor (we used Cointreau)
Juice from 5-6 limes
Directions:
Line the rim of the glass with salt by dipping in simple syrup first (we ran a lime across our and then dipped in salt). Then, place all ingredients in a blender and blend until smooth. Let rest for 3 minutes. You can skim off the foam on top if desired. Serve in a slat-rimmed glass with a lime slice (we garnished ours with a strawberry). Sip and enjoy!
If you don't have simple syrup stocked in your bar cabinet, you can make your own. Katie Rose shares how here. 
Recently our friend JP sent us this recipe for Ranch Water, which we had to try! One, the name is great! Two, the rim was lined with salt and red pepper flakes. Three, it uses a Texas staple, Topo Chico. This recipe was for a big batch, so we modified it for a single portion. If you want to see the original click here. 
P I N____________________save this for later
Marfa Ranch Water Featured on Martha Stewart (See Original Recipe Here)
Ingredients:
Lime wedges
Flaky Sea Salt
Aleppo-Pepper Flakes (we used Red Pepper Flakes)
2 oz Chilled Silver Tequila
Topo Chico
Directions:
To line the rim of the glass, run a lime wedge along the rim. Mix together red pepper flakes and salt. Dip the rim of the glass. Fill glass with ice. Pour in 2 oz of chilled silver tequila. Top off with Topo Chico and a squeeze of lime.
The last recipe is my absolute favorite. When we were in Mexico, our bartender taught me all about Mezcal. He showed me how they smoke the agave plant and I found it so fascinating! I am typically not a fan of that smokey flavor, but I LOVE it in this cocktail!
P I N____________________save this for later
Meg's Mezcal Raspberry Smash
Ingredients:
2 oz Mezcal
7-8 Rasberries
1/2 of a lime, juiced
1 Tablespoon Agave Nectar
Directions:
Place three raspberries on a skewer and set aside. Add Mescal, Raspberries, lime and agave nectar in a shaker. Muddle the raspberries and add ice. Shake. Add ice to your glass and pour the shaken contents into glass. Garnish with raspberries.
I hope you enjoy these fun cocktails! Happy Cinco De Mayo!