I was nervous to use oils on Kaden when he was itty bitty, but I have taken my fears and researched! Which if you know me, you know I don't love doing… however I do love to know that what I'm using in our home, and especially on my babe is safe. Oils are all natural which means they are fine right? Well, yes. So here's the thing, just because something is all natural doesn't mean that you are not allergic to it. So, it is never a bad idea to try diffusing an oil before putting it on the skin or to try a little bit of oil diluted with fractionated coconut oil on a tiny spot of skin before rubbing it all over their bellies. Also, It is important to realize that since Young Living essential oils are 100% pure, they are extremely concentrated. They work quickly! It takes __ for them to enter the blood stream. Which is one reason I LOVE using them, and another reason why it is important to know what you are using. The bottom line is that it is important to do your own research before using any product in your home or on your littles so that you feel good about it, and then do what you are comfortable with.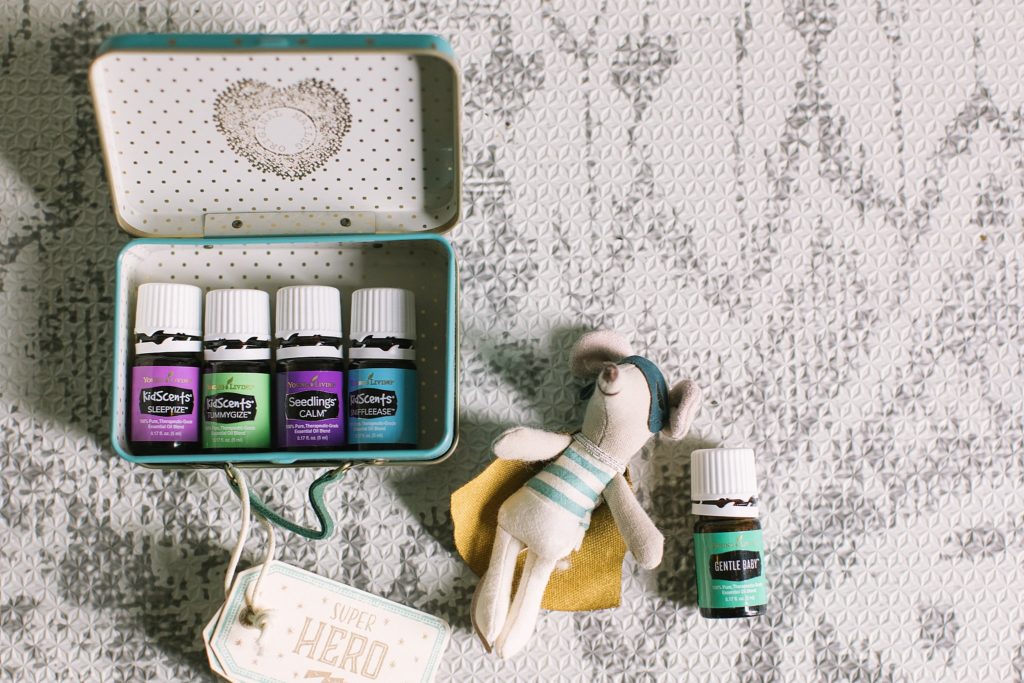 Diffusing// This is the best way to start using oils! Getting a diffuser and plugging It into your wall, putting water and a few drops of oils is a good start to using oils!
I started with one diffuser and somehow they are multiplying… because I LOVE having them in all of the rooms! I think of It like having a candle in every room. It is a great way to create a relaxing environment or add a clean, seasonal scent to the room! You can diffuse cozy blends or fresh, Spring blends… whatever you choose.
In Kaden's room I keep the diffuser by the diaper pail. That thing can get kind of stinky and It has really helped to have the diffuser right there so that every time I open it up, I smell the oils instead of the diapers!
Topical// I use a few of the oils topically on Kaden with a carrier oil or a lotion base. Does anyone else have an obsession with baby feetsies?? Because I think they are the cutest thing!! I love to put lotion on Baby K with oils before his naps and bedtime… and he likes It too! As soon as I started doing that before his naps he started sleeping longer… no joke! I will never stop that again! I also rub oils with fractionated coconut oil on his little belly in the morning. I call It Kaden's cup of coffee. It just helps everything to start moving.
So… here are a few of my favorite oils for baby K.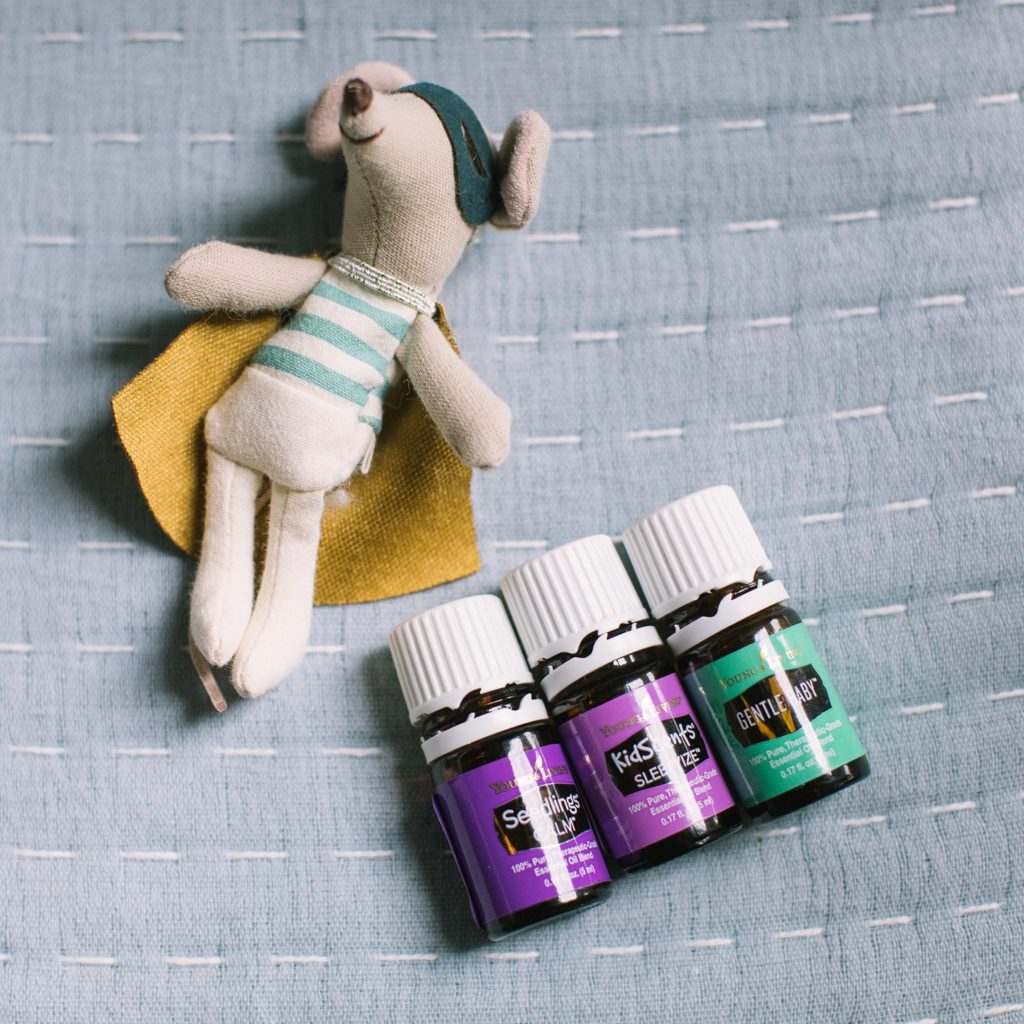 Gentle Baby// I love this oil! It is a miracle worker in our home! Anytime Kaden is fussy I will put this one in the diffuser or put a drop on my hands and wave them in front of him to smell. It is instantly calming. I diffuse this most of the time in his room for naps and sleep. I put about 3 drops in the teardrop diffuser and it makes the whole room smell dreamy! And, like I said, I keep our diffuser close to his diaper pail to help cover up that stench. Before his naps and before bed, I also put lotion in my hand and 1 drop gentle baby, rub my hands together and put it on his legs and feet. I usually put him in feetsie jammies so that It covers his feet. I just don't want him to rub It with his hands and then rub his eyes.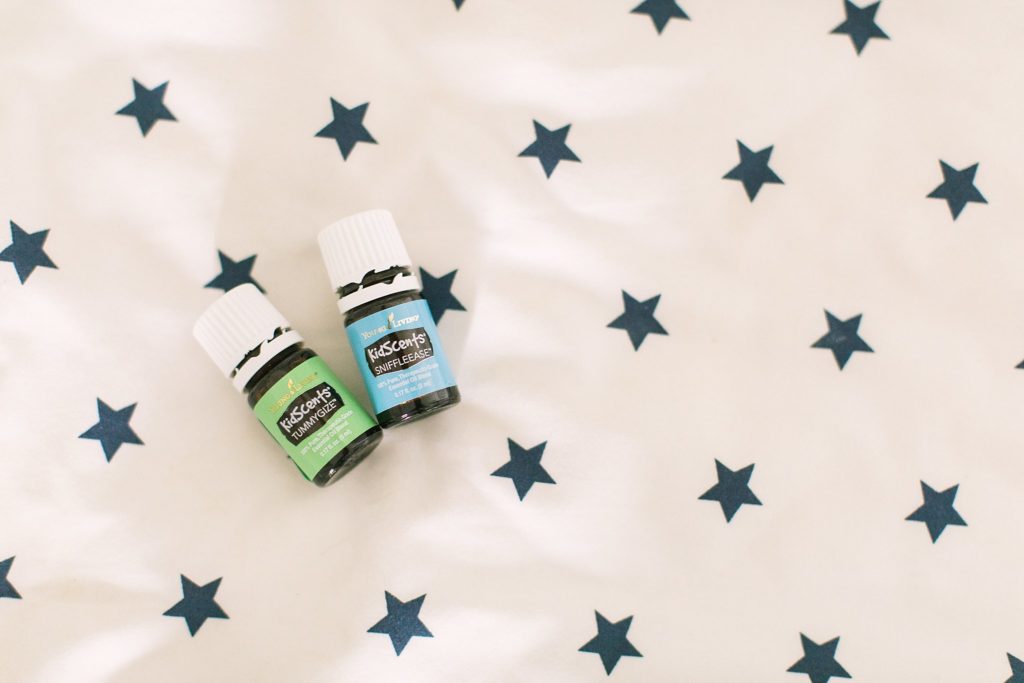 Tummygize// This is a great oil! We have started solid foods and this oil has been a tremendous help to me! Sometimes Kaden eats something that either seems hard to process or makes him constipated (who would have thought I would talk about constipation on my blog?! So funny!). I put one drop of this oil in my hands, rub them together and rub It on his belly in the morning right before I get him dressed for the day. This one is already diluted for kids 2 and up, but I add a little oil for Baby K since he isn't quite 2 years old yet. Sometimes, I add 2 drops of this to the diffuser with or without Gentle Baby.
Seedlings Calm// This scent is a beautiful one! I love it so much! It is the scent in all of the baby Young Living line. The diaper rash cream, baby lotion, and linen spray are all made from this sweet smell. I use a couple drops of this in the diffuser, and I also have the linen spray which I spritz on Kaden's sheets before naps and bedtime. You can add this to a lotion base as well and give your babe a little spa experience before bed. It makes me feel like taking a nap sometimes, too!
Sleepyize// This is the blend that is made to go directly on kiddos 2 and up! So if you want something that you can just put a couple drops on your hands and put It on their feet, this is perfect. At our house, we use this one as part of our diffuser rotation. Kaden is mostly in his room just to sleep, so we basically rotate between gentle baby, sleepyize, and calm for the diffuser… sometimes the tummygize oil.
Sniffleease// This oil is a Godsend during those seasonal threats. Kaden loves exploring outside and sometimes It is so windy that I know his allergies get to him! This little blend is one I love to add to the diffuser after we have been playing outside to help him breathe more easily. It smells so great and also helps my allergies!
Copaiba// I was my hands, and put my finger directly on the top of this oil bottle and rub this oil straight onto Kaden's gums to help with inflammation from teething. It almost has a tingly, numbing effect that is amazing! He loves it and I see almost instant relief with this oil. I wish I knew about this one early on with the teething but we are definitely getting plenty of use now!
Lavender, Peppermint and Lemon// This blend is something I diffuse every day right now!! My allergies are awful and I am constantly applying this to the back of neck, but I also diffuse It in our living room. I put 5 drops of each in our big diffuser to help us all breathe better after being outside.
I hope this is helpful!!