Sensory bins are the big thing right now!! And, if I'm honest I really didn't understand why. However, I have done a little research and the teacher in me really loves everything they stand for.
Toddlers are curious little beings and they are usually trying to explore and figure things out. Their tiny minds are always moving and they are always on the go. If you are anything like me, you are constantly trying to find something that will hold your little toddler's engagement for more than 5 minutes. This sensory bin took me five minutes to put together and Kaden enjoyed It for at least 20 minutes!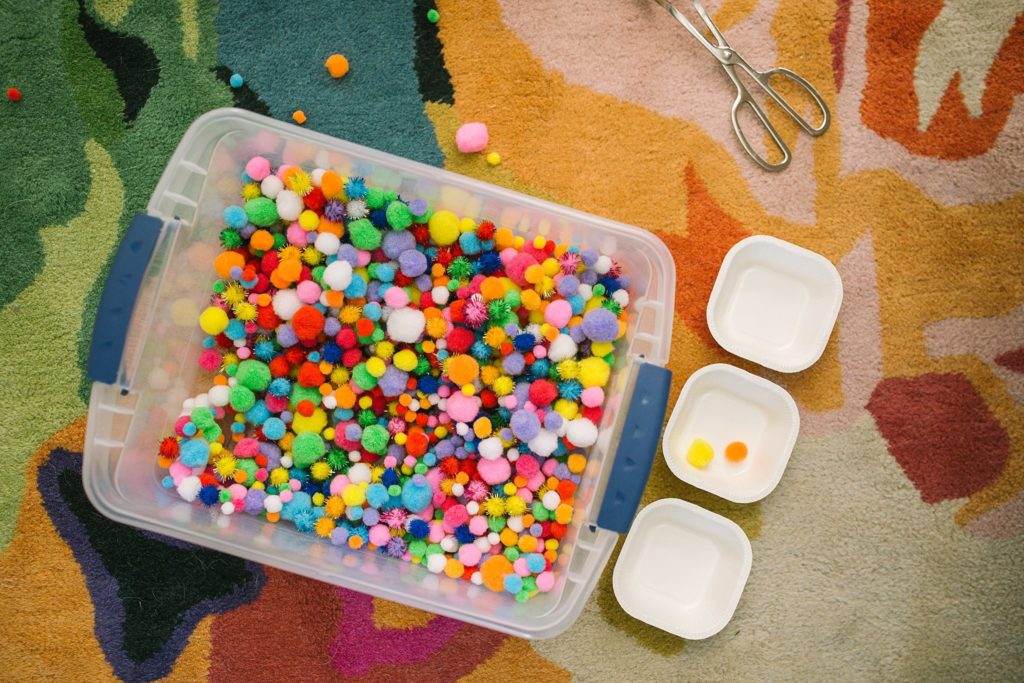 What is a Sensory bin?
Sensory bins are educational, entertaining or therapeutic boxes that help kids and toddlers use their senses and explore. Some bins focus on one or two senses while others focus on many senses all at once.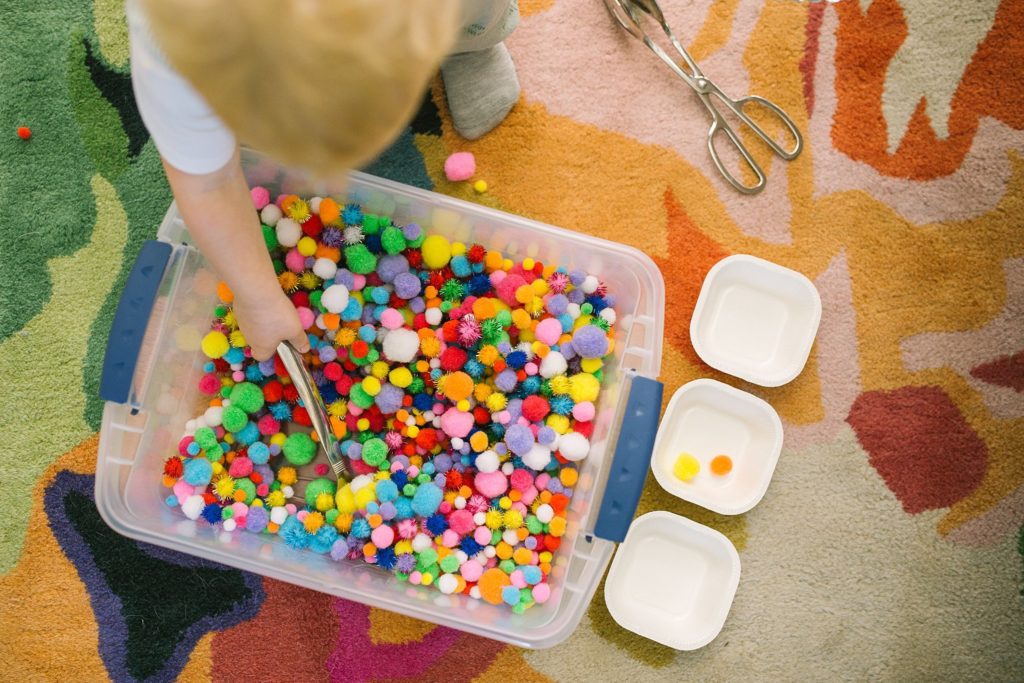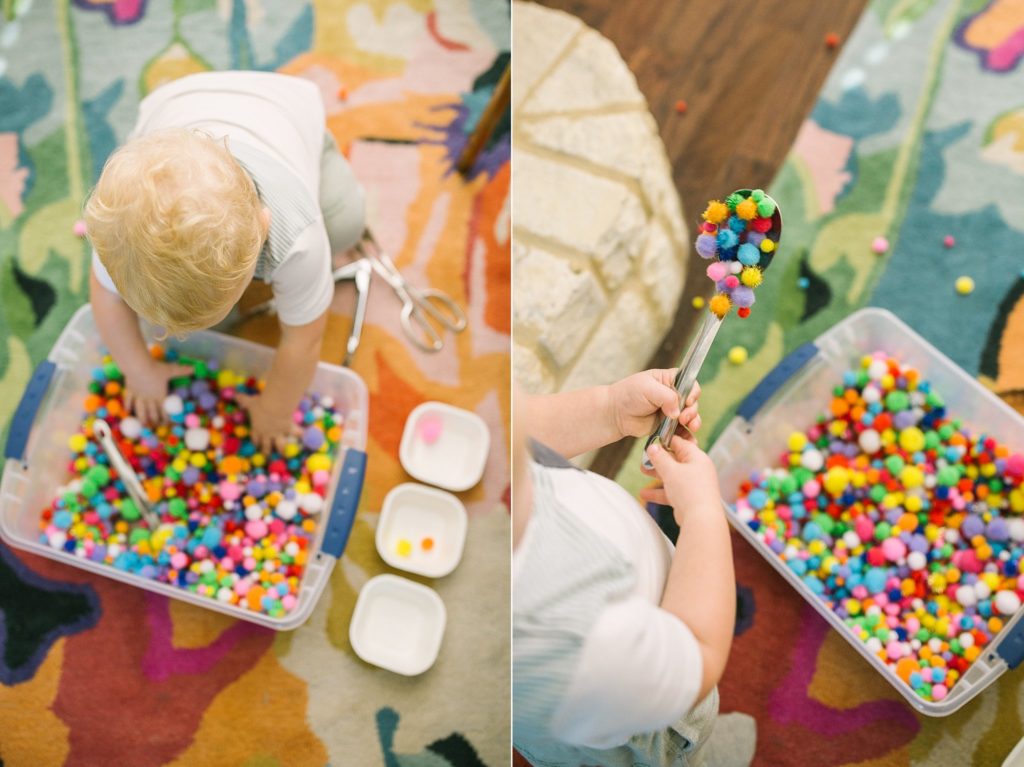 Why Use Sensory Bins?
Sensory bins help children explore by using their senses. Just imagine the first time you stepped onto sand, what did It feel like? Did you smell the ocean breeze? It is a full experience. These little bins create a full experience for our little kiddos. Kids are constantly learning about the world around them and these bins help us bring things from the outside to them. Especially right now while we are all staying home so much more, it is important to let our littles feel like they are still learning about the bigger world around them.
Sensory bins help teach independent play or cooperative play. You can create bins for each child, or have sensory bin playdates, or give one bin for all of your kids to share and work together. There are so many benefits to both types of play.
A lot of sensory bins help children use their fine motor skills with scooping or pinching smaller items. They can be using their hands or little tools to gain motor skills.
Some sensory bins even help to develop language by hiding objects that you discuss with your child.
How to Create Your Own Sensory Bin
Choose a bin// We chose a clear, plastic bin because it's durable and easy to see everything inside.
Choose a filler// You can choose so many different fillers, but we had these little crafting pom pons and decided to just run with it. I do suggest making sure your kiddos have age appropriate items that they will not choke on. I sat with Kaden the whole time we played so I was able to make sure he didn't eat any pom pons for lunch. You can choose other fillers like water beads, sand, beans, popcorn kernels, water, rice, cereal, marbles, etc. I have linked a few below.
Add Tools// You can purchase sensory bin tools online. I have linked some here, but sensory bins also can be really inexpensive if you use what you have around the house. We used tongs, measuring spoon, measuring cups, and serving spoons. I have linked a few below.
Add Objects// We didn't do this in our bin other than the cups just because it was our first bin and I wasn't sure how It would go, so I didn't spend a ton of time on It. But, now I would love to make some themed boxes like farm animals with kinetic sand or sea animals with water beads. There are so many ideas out there! Pinterest is a great place to start as well!
If you don't have the time to make your own bin and you still want to join in on the fun, there are so many amazing and creative people making sensory bin kits. I linked some below for you, but some of my favorites are Young Wild and Friedman (my friends just showed me their creations) and The Blissful Nest on Etsy that I have purchased many gifts from recently! She has so many cute kits all ready to go for every occasion or theme! She even makes adorable custom party favors! I have linked a few of my favorites at the bottom of this post.
For more reading on how to use everyday objects for sensory play… click here to read Sensory Play for Toddlers Using Regular Household Objects
| Shop This Post |