I LOVE making things with Kaden and he loves it too, so I wanted to share our DIY Mother's Day gift with you! I was originally going to make aprons but I thought I might wait until both babies are here. A long time ago, my cousin made an apron for my mom that we still use at every holiday to bake pies! So, instead I decided to make some dish towels with hand prints! This is the perfect Mother's Day gift DIY.
To see last year's Mother's Day DIY click here.
Last Year's DIY Mother's Day Card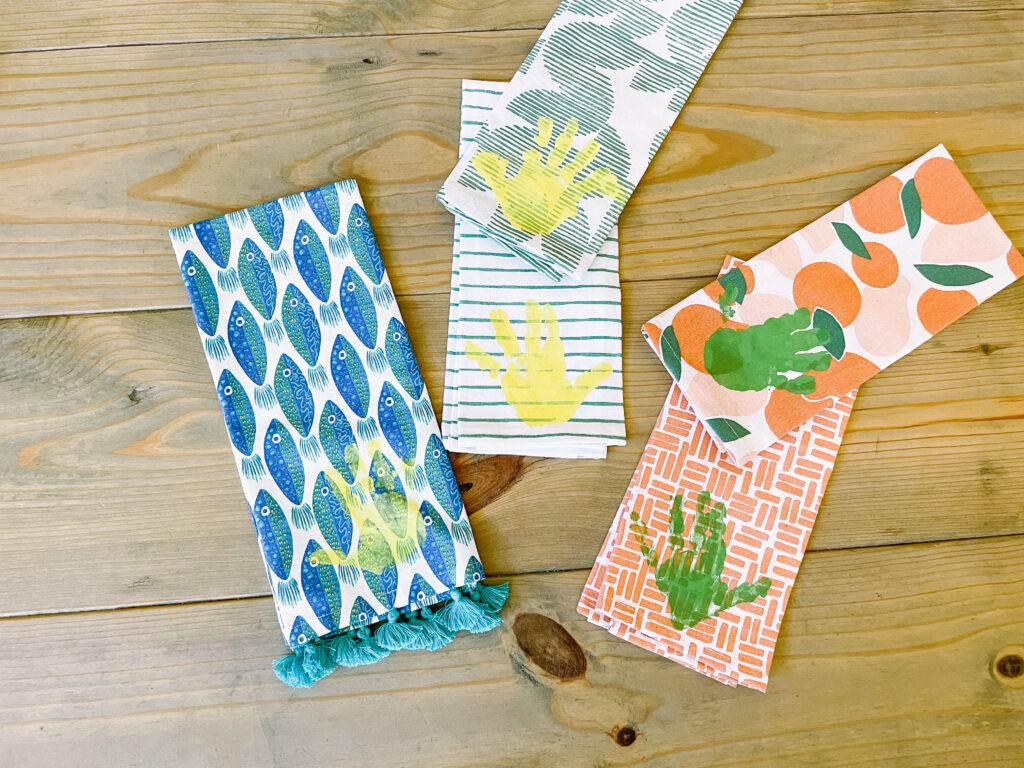 DIY Hand Print Dish Towels
I found some really cute dish towels at Target and they came in a 2-pack with different patterns for $3! What a steal! I was originally looking for solid colors, but I thought this would be fun and different than what I had seen on Pinterest.
Then, I headed to Michael's to pick the paint! This was so much harder than I thought, so I linked the colors I used below because I really liked how they turned out! Maybe it will save you the decision making time. Kaden thoroughly enjoyed painting his own hand and getting messy. It was so tricky to keep him from touching anything else around him, but I kept a water bucket and a towel right next to us so we could wash his hands after every hand print. There are a few mess-ups on the dish towels, but I think that's what makes It homemade and special. I have to remind myself that Kaden is not even two years old.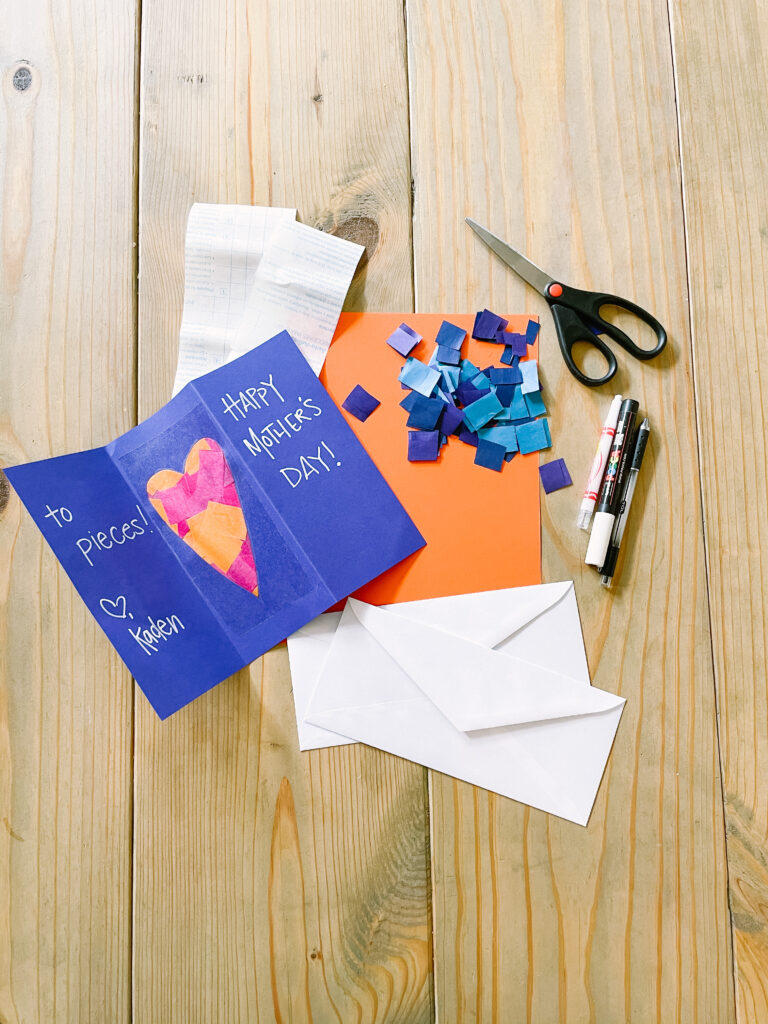 DIY Mother's Day Card
I put together a reel for our Mother's Day card and It was so fun! Kaden has loved the tissue paper craft (similar to what we did here for St. Patrick's Day), so I decided to implement that with Mother's Day!
First, you take the construction paper and fold It into thirds (this goes with the design but also makes It easy to mail). Then, I drew a heart in the center and cut It out. I placed contact paper on what would eventually be the front of the card.
Then, you flip It over and give your toddler all the tissue paper pieces. Kaden likes to use his safety scissors to "cut" as well. I think it's fun for him and buys me time while I'm prepping the craft. He places the tissue squares on the sticky contact paper.
Next, I wrote I LOVE you (first slap), to Pieces (on the back of the first flap), and then Happy Mother's Day on the last flap. I used my favorite white Posca Marker (so It would show up on the colored paper) and then gave Kaden the white crayon to go to town and add his own finishing touches!! He had a blast and I know our Mimi and Nana Bebes will love It!
Other Mother's Day Gift Ideas
If you're really not into DIY or don't have time, here are some of my favorite Mother's Day gift ideas for you!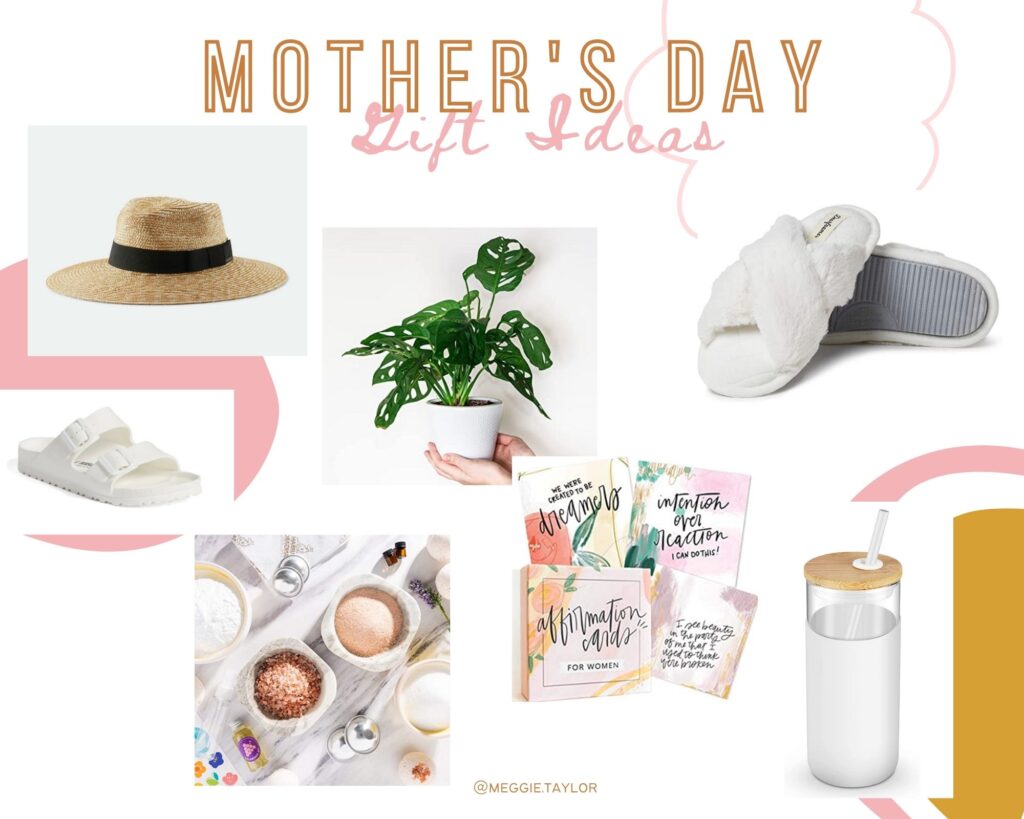 I hope you enjoy all of my suggestions! Would love to see what you make for your Moms and Mimis this Mother's Day!! Tag me on insta @meggie.taylor if you decide to try one of our DIYs.