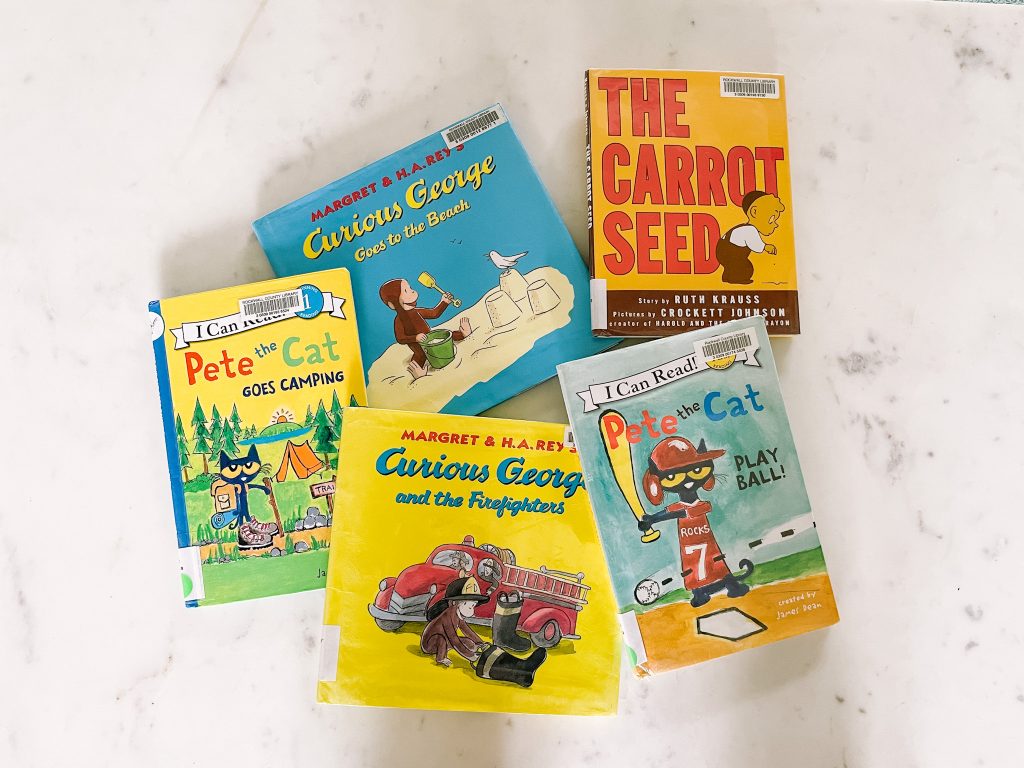 It's time to share our Friday Favorite Books! This week Kaden and I took a trip to the Rockwall Public Library. We had so much fun! His Mimi brought him some Pete the Cat books when she visited and he really enjoyed them, so we set out to find some more Pete the Cat books! We have decided to try out camping as a family, too, so we got a bunch of camping books and Curious George (another of Kaden and Aaron's favorites).
Friday Favorite Books
The Carrot Seed// This book is adorable, simple and perfect for Spring. For Easter my parents sent Kaden and Cole Carrot seeds so they have been watering them daily in anticipation of sprouts. Kaden has loved talking about his carrots and showing them to my parents over Facetime!
Pete the Cat Goes Camping// We have been debating a camping trip and I figured if we are going to camp, the kids should know what It is. So, we got Pete the Cat Goes Camping. This book is perfect for Kaden. It talks about scary noises and how everything is ok! And, It also explains how much Bigfoot loves S'mores!
Curious George Goes to the Beach// Who doesn't love Curious George?! In the car, Kaden said to me "Let's go to California, Mommy! Let's go to the beach!" I don't know if I've ever been more proud! I have dreamed of my kids being beach babies just like me! This book is adorable, just like all of the fun adventures of Curious George.
Pete the Cat Play Ball// Kaden has been really into watching different teams! He is loving watching kids play soccer and baseball, and we are excited for him to reach the age where he can be a part of a team! This book is cute and explains the game of baseball in a simple way!
Curious George and the Firefighters// George and all his mischief ends up helping the firefighters in this cute story! I love Curious George and this story is perfect for kids who love all the things that go!
Happy Reading!
We hope you enjoy this week's reads!