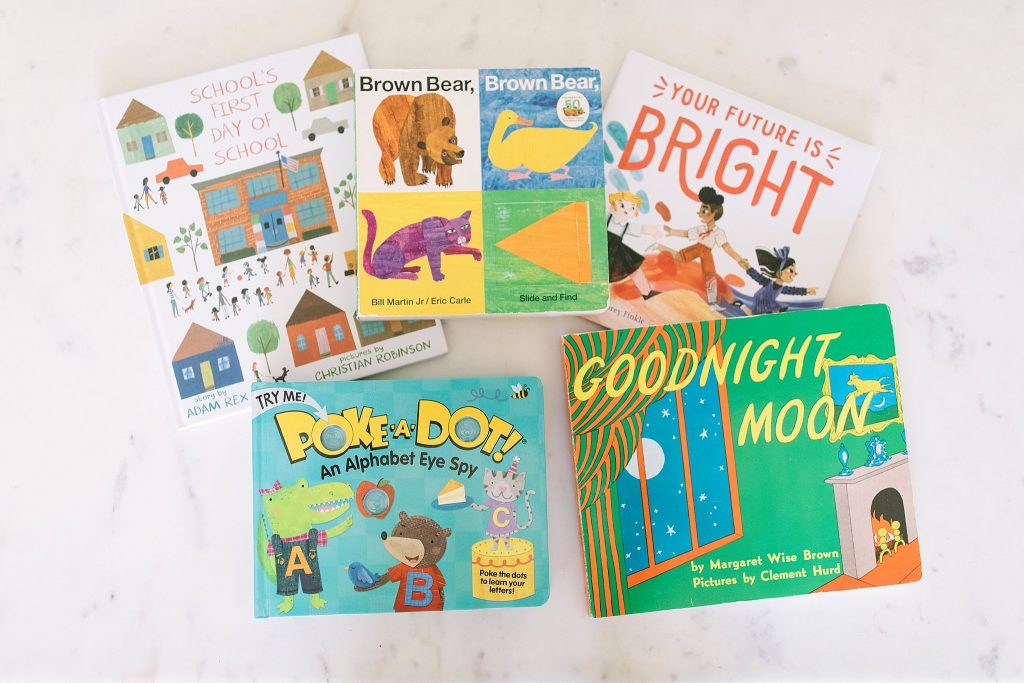 Happy Friday, Friends! Today we are sharing our Friday favorite books you will love. These are selected by Kaden, my two and a half year old son. These five books are the ones he has chosen to read over and over this week. So, I wanted to share them with you in case you are looking for some ideas. Here we go!
Friday Favorite Books
School's First Day of School by Adam Rex// I purchased this book because Christian Robinson is one of my favorite Children's illustrators! You've probably seen his collaboration with Target. It's amazing! He also illustrated Last Stop on Market Street which is an amazing book as well! School's First Day of School is told from the school's perspective. It is a great book for gearing up for school after the Summer. And, Kaden loves It because It also has a little boy named Caden who laughs so hard, milk shoots out his nose.
Brown Bear, Brown Bear by Bill Martin Jr.// This book is a classic. Every time we read It, I try to figure out what makes kids like It so much! Don't get me wrong, it's a great book for colors, but this one is one of Kaden's all-time favorites and I wish I knew why. This particular copy of the book has flaps to move that show the next animal which makes It really fun!
Your Future is Bright by Corey Finkle// This book is absolute perfection!! The drawings are magical and the message is delightful! Every time we read It, Kaden chooses to be a mechanic. I think that perfectly shows his interests right now! He loves nothing more than helping daddy and Papa fix things. This book reminds me why I enjoy reading with Kaden, because I learn so much about him as we read and talk about the illustrations. I can see how he views life. I love It!

Poke-A-Dot An Alphabet Eye Spy// This book is kind of long because you have to find all of the objects, but we love It!! Kaden enjoys poking all of the dots along the way and I like to think that It is helping with his letter sounds and alphabet recognition.
Goodnight Moon by Margaret Wise Brown// This was one of my favorite books when I was younger and I vividly remember my mom reading It to me! I read It the same way she used to, with the same inflection, and I just melt every time we say "mush" and "hush". Kaden looks at me with smiling eyes and lets out a little giggle. I couldn't be happier!
If you are looking for some Spring Books head over to my Spring Books for Kids List.