Ok, this is the first of a continual series called Friday's Favorite books. Kaden and I love to read books! And, I know our mom group is always asking for new book recommendations so here we go! At nap time and bed time, Kaden picks a book and so do I, so I thought it only fair to share both of our picks for the throughout the week. These are tried and true. Kaden loves them!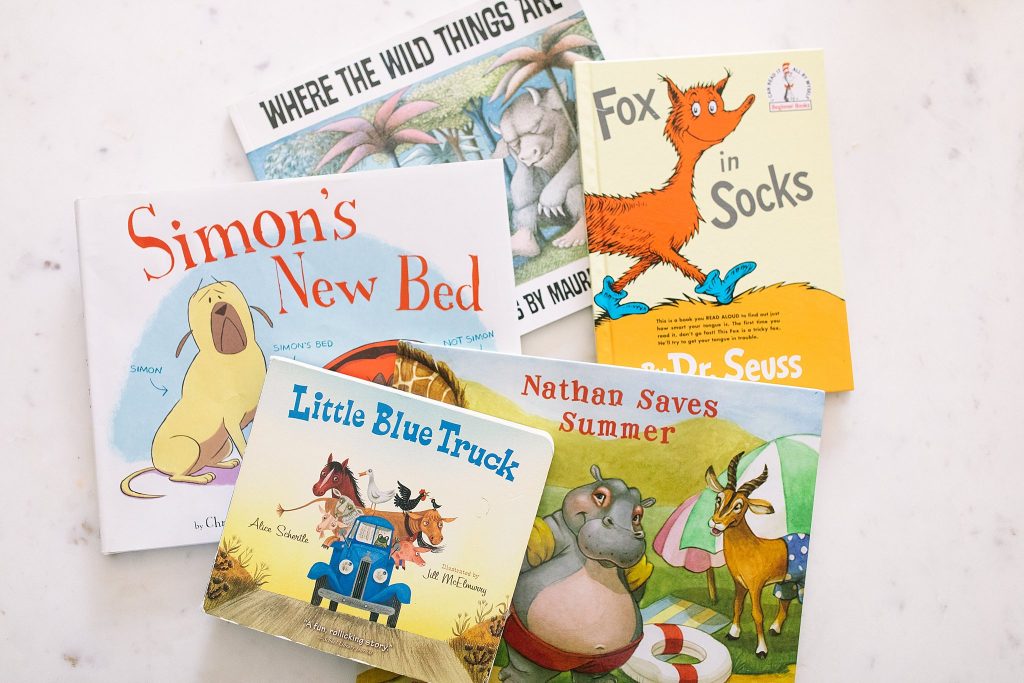 Kaden's Friday Favorites
Little Blue Truck// This is no doubt one of Kaden's very favorite books! He loves all of the blue truck books and this one is no exception.
Nathan Saves Summer// Kaden loves to swim! Nathan Saves Summer is a book about a hippo named Nathan who wants to be the lifeguard at the local watering pond. He has some obstacles to overcome, but It teaches never to give up.
Simon's New Bed// Kaden loves to talk about Simon and the cat that won't get out of his bed. This book is a great way to talk about sharing! Sometimes we can't have things to ourselves, even if it's our new bed.
Where the Wild Things are// Kaden loves this book and I'm not really sure why…but it's fun to read with him. He tells me all about the wild things and max going to bed without dinner because he's in trouble. He likes to add his own words to the pages without any text which is different every time! It's a great read with him.
Fox in Socks// This Dr. Seuss book has been on repeat lately and It is such a tongue twister! But, It is really fun to look at all the pictures with Kaden and he laughs a lot, which of course I love.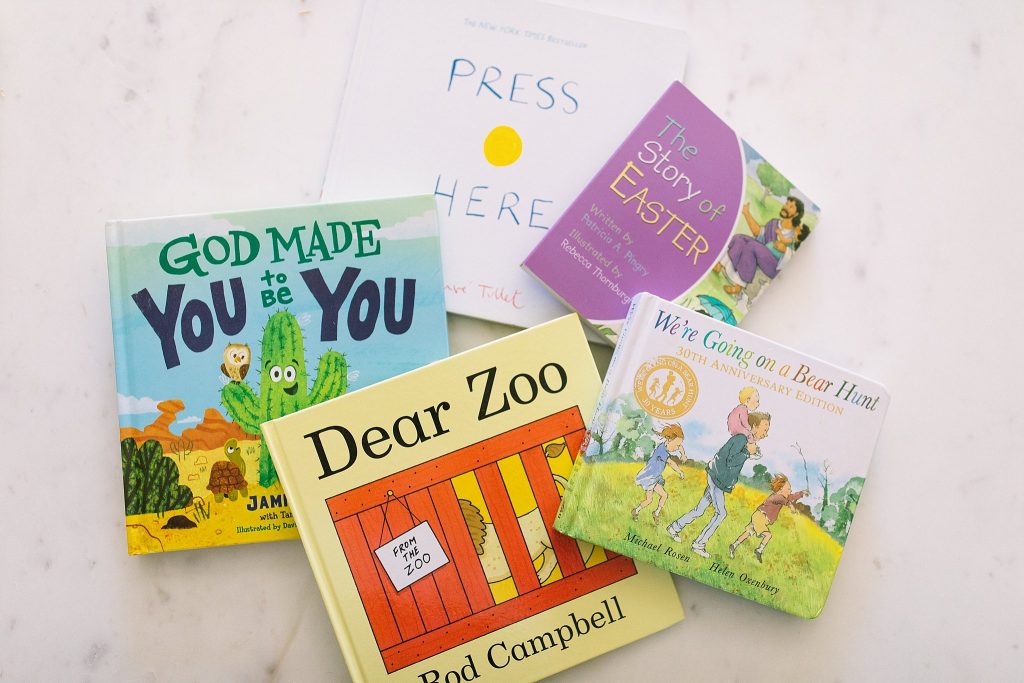 Meggie's Friday Favorites
We're Going on a Bear Hunt// I used to love this book as a kid and Kaden loves It too! We like to pick a character that we point out on every page. We usually choose the doggy. Then we find him on every page of the story. This one is fun because Kaden has started to finish the sentences as I read them since they are repetitive.
Press Here// I love this interactive book. It is fun because It helps kids learn to follow directions and teaches them directions and counting. Kaden loves to do It with us.
Dear Zoo// Not going to lie, I choose this book when we are short on time. Dear Zoo is a lift the flap book and it's so cute! I have really been enjoying It because Kaden is at the point where he remembers the words that come next. So, when he flips the page he gets so excited because he knows which animal is behind the flap.
God Made You to be You// This book by Jamie Ivey was given to us as a gift and It is so sweet! It's a story about a Cactus named Sammy who learns to love being himself. It is such a cute story and the illustrations are fun and imaginative.
The Story of Easter// This little board book is one I've been reading so we can talk about the meaning behind Easter. Kaden is also learning about Jesus dying for our sins at Bible study so It is fun to hear him talk about the pictures in this book and what he's learning.
I hope you found this week's Friday's favorite books helpful. Happy reading, friends!