Here we are at Friday again and I am realizing that I haven't blogged anything since two weeks ago! How is that even possible? I'm so happy to share Kaden's choices for Friday's favorite books. Here's what we've been reading this week.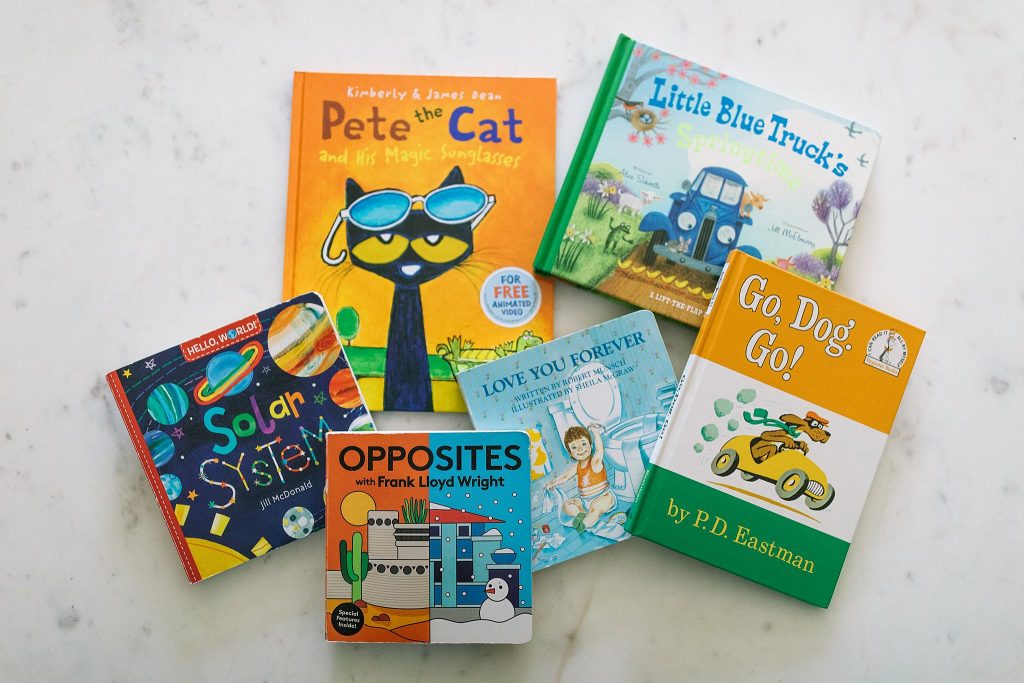 Friday's Favorites
Little Blue Truck's Springtime// Kaden loves the Little Blue Truck books, as you saw in last week's list… This is the Springtime story with Little Blue Truck as the main character. It's a fun lift the flap book that Kaden loves and It involves counting the animals together. His favorite page is the last page and we can just sit there and talk about the picture for a very long time. This is a long time favorite book.
Go, Dog. Go!// This classic Dr. Seuss book is such a fun read. It helps kids to understand prepositions such as in and on and opposites like up and down. Kaden loves that the dogs all end up at a party and that illustration is his favorite! He loves that the dogs go fast and stop and go at the lights. He talks about It all the time while we are driving in the care. This would be a fun book to pair a hat craft with, since the dog is always trying out new hats!
Love You Forever// This book was one that my mom used to read to me when I was little. Honestly, now as I read It to Kaden I think it's mostly sweet but also kind of odd. But he loves It just as much and he always tells me how much he loves me after we read It, so I personally love when he chooses this book.
Opposites with Frank Lloyd Wright// This is a cute lift the flap book that I found in a small store in Dallas. It is wonderful because I loved some of the Frank Lloyd wright architecture in Arizona growing up. So, It's fun to share that with Kaden. It is also a great way for him to learn opposites. I read him one word and he usually tells me what the opposite is. It's like playing a game while reading a book.
Pete the Cat and His Magic Sunglasses// This is an old book from my classroom (when I used to teach Kindergarten), and Kaden loves It! It kind of reads like a song which is fun and different. He can predict what it's going to say, so he enjoys that!
Solar System// This book was a gift and Kaden chooses It so frequently! He loves to learn about the planets. There is a page where It asks which planet you would like to visit first and he always chooses Saturn, and my favorite part is that he says "Let's go to Saturn with Kaden, Tollie, Daddy and Mommy." How can you not want to go to Saturn when your son asks??
I hope you enjoy these favorites from our house!