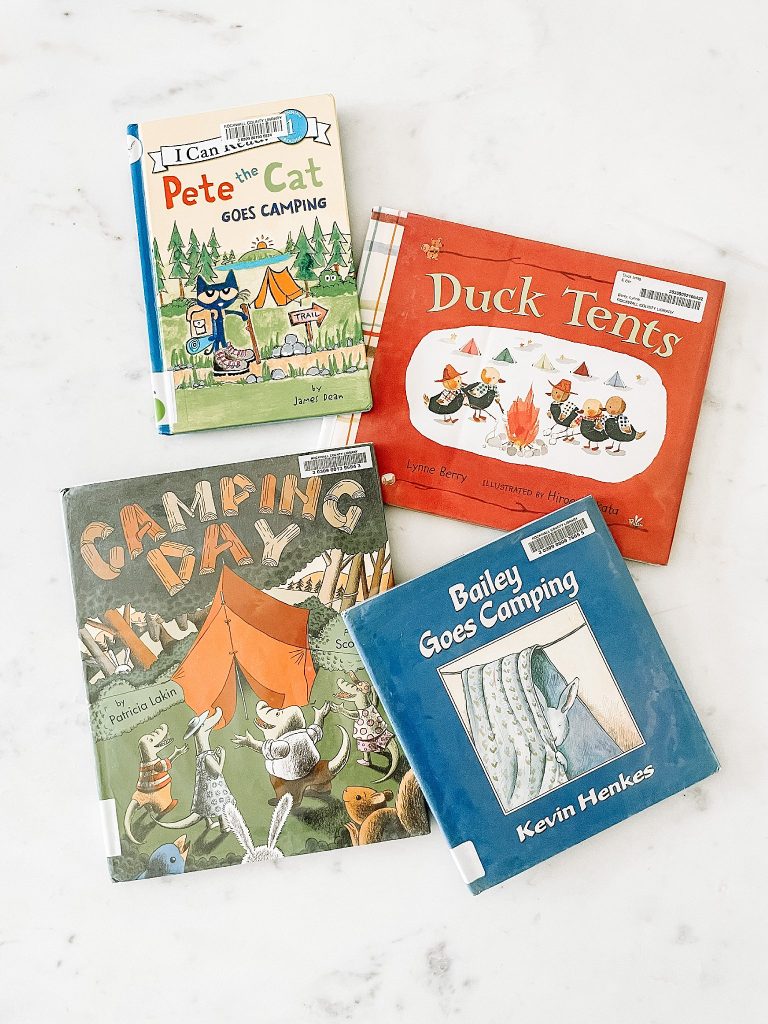 In one of my teaching reading classes, I remember the focus being on how to get your students to love to read. You ready to know the big secret?? Let them choose what they read! If they love fish, let them read about fish. If they love motorcycles, let them read anything about motorcycles (even if It is a magazine and not a book). This seems so simple, but It is so effective!! We have been talking about taking a camping trip, so we decided to find some books about camping.
Honestly, I'm not really sure Kaden understands the concept of camping in a tent because we have never done It before. We don't watch a lot of TV, so I didn't think he has even seen other people go camping. I had to explain to him what a sleeping bag was. He asked, "Why do you sleep in a sack, Mom? We have beds." And, I have to say, I am not arguing with him on that one.
Anyways, this week's Friday Favorite books are all somehow related to camping! We printed a list from the library and we have been making our way through the books on It. Some are great. Some are really not. So, here are the books about camping Kaden has loved to read over and over again!
Books About Camping
Duck Tents// This book has the cutest illustrations! The story is about five ducks who go camping and It is told with fun rhymes. It's adorable.
Pete the Cat Goes Camping// Kaden loves Pete the Cat right now! This is an easy reader book by James Dean and the pictures are cute! It is however, not a picture book, per say. The story is cute and Kaden enjoyed hearing about big foot and s'mores in this one!
Bailey Goes Camping// This is a cute book written by Kevin Henkes about a little bunny named Bailey who missing out on the camping trip because she's too young. Bailey learns that she can do all the camping things at home!
Camping Day// This book was really cute! It's about four friends who go camping. This book helped talk about different noises you may hear while outside camping, but It is so fun and not scary at all!
Curious George Goes Camping// Kaden loves all of the Curious George books right now which I love! They are so cute! This one doesn't disappoint!