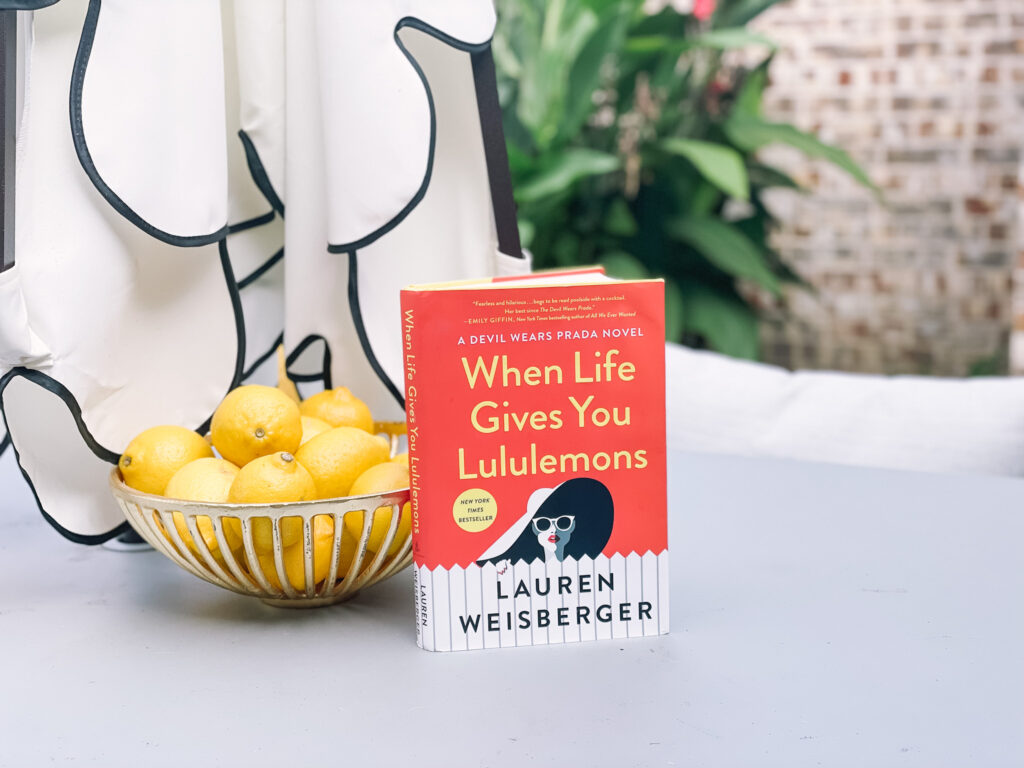 I think at this point you know how much I love to devour every book that Lauren Weisberger releases! When Life Gives You Lululemons was no different. Not only did the author catch my attention, but the title and the book cover immediately drew me in. I had to see what When Life Gives You Lululemons was all about. It was wonderful!
I had written a post about When Life Gives you Lululemons last July but we hadn't gotten to host Book Club in person, so I'm rewriting my post because we just finally met in person this week to discuss the book and enjoy each other's company! I had to re-visit the blog. (read original post here)
It was the perfect deliciously scandalous novel to read during the Summer. It read like a reality show sequel of The Devil Wears Prada. The book picked up with our beloved character Emily Charlton in Hollywood, struggling with her image consulting for the stars business. She was needing a new client or a new scandal to save her career.
Her friend and ex-super model Karolina soon found herself in trouble and Emily flew out to Greenwich to save the day. With the help of their mutual friend Miriam (an ex-attorney), they all work together to help the truth come to light.
It has the style and glamour of The Devil Wears Prada, the drama of the suburbs and a little cameo from Miranda Priestly, herself. This is the perfect Summer read! I hope you enjoy it!
I was a little disappointed with the last book I posted about by Lauren Weisberger, Revenge Wears Prada, but this book was the opposite (read about it here). It fully delivered!
Hosting Book Club
It was so fun to have everyone over at the house again! This was the first time we had gotten together in over a year and I really missed everyone! I am only ten days out from having a baby so I decided to make everything very easy. Thanks so all my friends who helped out!! That made it even easier!
Dinner Menu
I picked up two pre-made quiche's because in the book they go to a baby viewing (not a shower) that had fruit kabobs, greek yogurt parfaits and low carb brunch options.
I also served fruit kabobs and greek yogurt! It was fun to have breakfast for dinner.
We had some Bees Knees cocktails and mock-tails (lemon, honey and gin). I had to pull the lemons in somehow!
And, I found these adorable cakes in a jar from Costco that we had for dessert!
It turned out great, and really didn't take a lot to pull off!
I also placed a bowl of lemons on the table for decoration and played The Devil Wears Prada soundtrack to set the tone for the evening. We even participated in a fun gift exchange since this book was our first one back in awhile!
I hope you enjoy this book as much as I did! I'm so excited to get book club up and running again! We started to plan out the rest of the year which is something wonderful to look forward to!