In The Alice Network, a spy and a socialite come together to search for truth. Charli is a pregnant, single woman thrown out of her home and on the search for her cousin Rose. Eve was a spy in France during World War I. Years after the war, Eve and Charli set out to find answers to their questions. This story is so captivating. As you read this book, you are instantly transported back into time. Kate Quinn is an amazing writer. I felt like I jumped right into the story and I instantly felt invested in the characters.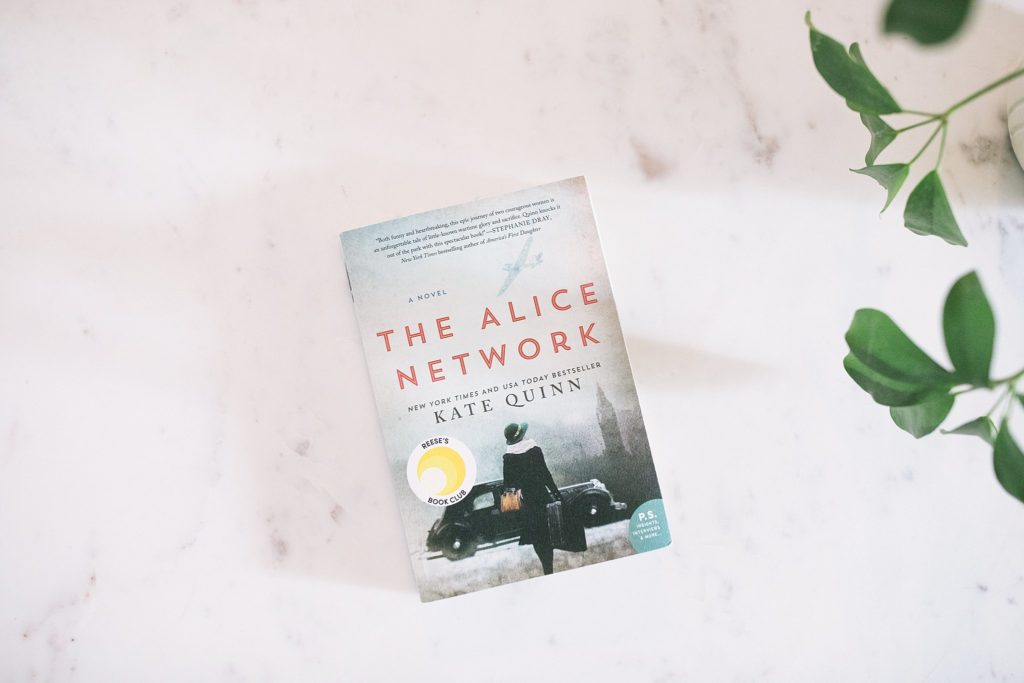 If you enjoyed the Nightingale, you will love this book. It is real, thought provoking, and epic. It feels honest and heartbreaking, yet hopeful and inspiring.
Why did you choose The Alice Network? I had heard so much about It! I'm also one to frequently flock to historical fiction, so after talking to my best friend about her recommendations (also a historical fiction aficionado – especially with WWII), It was decided.
Which themes stuck out to you throughout the book? Certainly the theme of strong women. I didn't know anything about the actual Alice Network during WWI so getting to research more about the women involved, especially it's leader Louise de Bettignies, was eye opening. You hear so much about the men who were committed to the war effort but not much about the women who risked their lives to serve their countries as well. All of the main female characters in the book were strong, fiercely independent, and were able to stand firm in their fundamental beliefs.
Describe the ideal location to sit and read this novel. On the couch with a cup of coffee! This is my ideal location for most books but especially this one. Though, most often I read this book outside, sweating by the blowup pool we have in our backyard since we're still in the thick of quarantining!
Did you identify with any of the characters? If so, who? Who did you find yourself rooting for? I don't think I identified with any of the characters in particular. I was in awe of their strength, and I hope that I can instill that kind of strength in my daughter. I was most invested in the storyline of Eve Gardiner, one of the main characters. The author did a wonderful job leading you into her story slowly with bits and pieces filling in along the way. You knew It would all come to a head at some point, but you just didn't know how. Hearing how her story concluded was both welcome and incredibly fitting!
Did you like The Alice Network and would you recommend It? I really enjoyed It and would absolutely recommend It! If anything, it served as a reminder that people have faced unthinkable trials in their lives and have faced them with strength and resilience. To have that kind of mental clarity, especially in a time like we're in, was needed. Helps to put things into perspective. It also was just a flat out captivating and well written story so it kept your attention. I also enjoy bouncing between time periods and lead character perspectives in books since it gives you clear stopping points when reading if you need them.
Keep Reading…