I realize I am behind on writing about our book club books, but I have been taking this time in quarantine to get caught up on all things photo, blogging, and books. In January, we read Home Work: A Memoir of my Hollywood Years by Julie Andrews (you can get your copy here). Who doesn't love Julie Andrews? Sound of Music is a classic! Mary Poppins had some of my favorite songs as a kid, and I loved watching her play the role of Queen Clarisse in the Princess Diaries! She was so charming.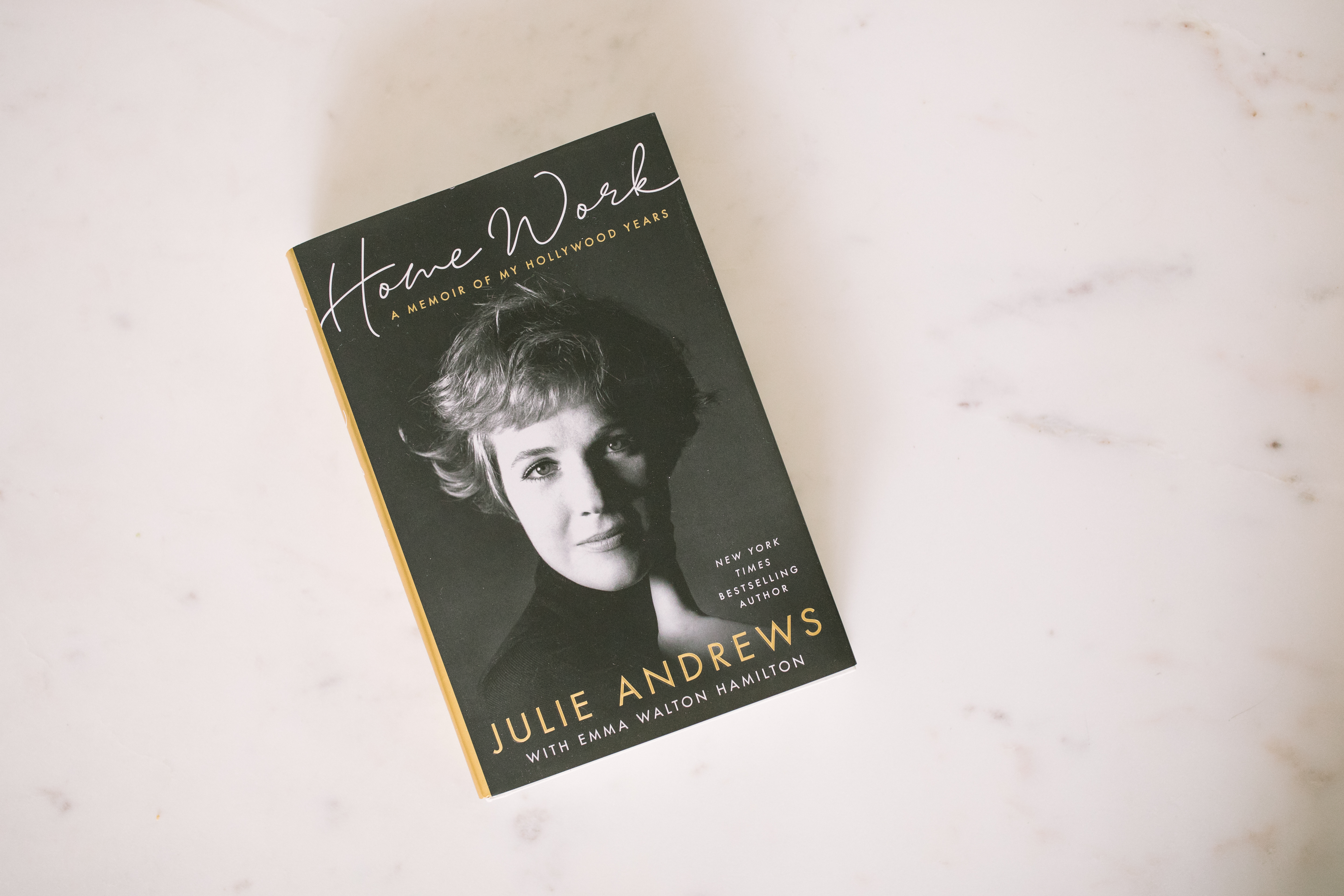 P I N____________________save this for later
Honestly, I knew Julie Andrews was an accomplished actress and singer because I knew these three movies well, but I was surprised to hear of all the other work she did as an actress! I was also surprised at how someone who came from such a hard life, rose to so much! She has a very heartwarming perspective on life and especially after reading this book, I was made aware of what a privilege It would be to work with her or even meet her. What an honor to be able to sit down over a cup of tea with such an amazing person. Can you even imagine?
Paige chose this book and so I had her answer a few questions for us.
Why did you choose this book? I chose this book because I have always LOVED Julie Andrews! The Sound of Music has always been one of my favorite movies, even since I was a little girl! So, of course I wanted to know all the details of her life.
What was one take away you had? My biggest take away from this book is that the movie star life is not as glamorous as It may appear! They deal with so many things on the daily basis that I could never dream of! It made me appreciate my simple life a lot more.
What surprised you most about Julie Andrews? Her childhood and her life was hard. She always appeared to me as someone who always had It together and lived the most perfect life… It was actually quite the opposite!
What did you like most about this book? What did you like the least? My favorite part of the book was learning all the behind the scenes moments from some of her greatest films! My least favorite part was that she never talked about The Princess Diaries! It's one of my favorites and I wanted to hear all her filming stories.
Would you recommend this book to others? If you are a fan of Julie Andrews (and who isn't really?!) then I would recommend this book! It was really fun getting to know her on a personal level. I also highly recommend listening to this book on audiobook because she reads It herself which made It so fun!
I totally agree with Paige! I listened to this book, and it was really beautiful to hear her tell her own story (find the audiobook here). I also thought that hearing how they filmed certain scenes, especially Mary Poppins (because of how little film technology was available at the time) was fascinating! People are so creative! I loved this book and It really made me want to read her first book… Home: A Memoir of My Earlier Years.
Keep Reading Similar Posts
Countdown to Our Favorite Book of 2019
July's Book | The Flatshare by Beth O'Leary
June's Book | Daughter of the Gods