The Royal We by Heather Cocks and Jessica Morgan is a royal novel inspired by the lives of Prince William and Kate Middleton. I remember when this book came out I downloaded It to my phone and spent the next two days by the pool consuming all the gossip. It was a fun, quick read…perfect for a sunny day. I couldn't put It down. I loved the characters and like always I fell in love with the love story.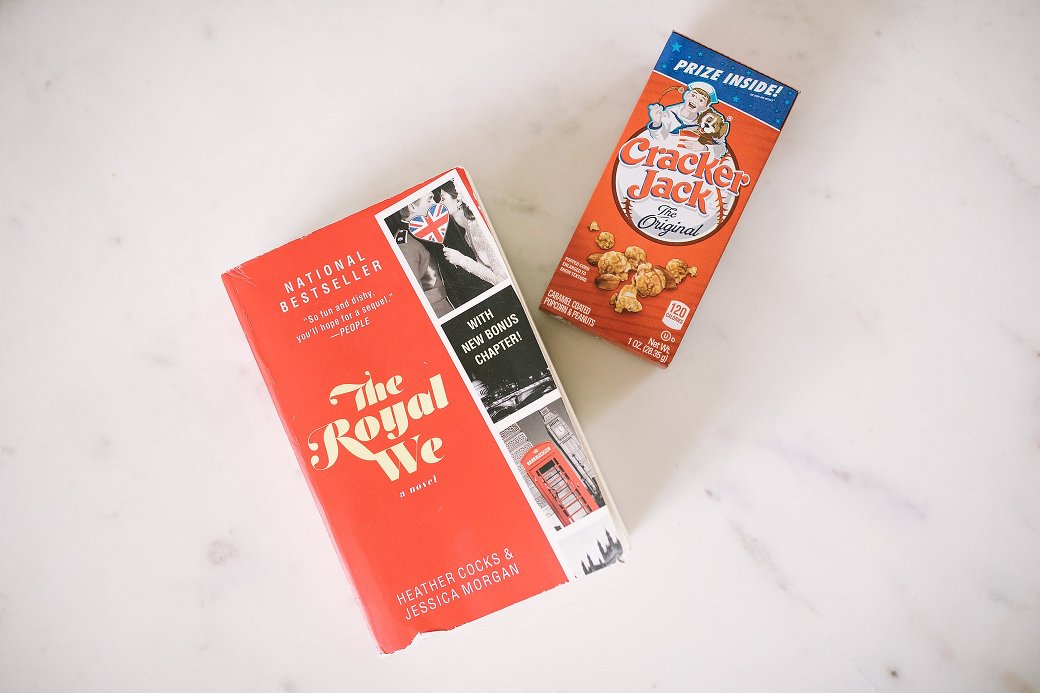 P I N____________________save this for later
The Royal We follows Bex as she goes to England to attend Oxford and finds herself living down the hall from Nicholas, the future King of England. At the time, it was a really fun off-beat novel that wasn't all true, knowing that Kate Middleton, the Duchess of Cambridge was not American. But now, it is funny to read since we know that Prince Harry found himself in love with an American, Meghan Markle. So many of the thoughts that Bex has as she nears her wedding seem to give you a little peek into what is expected of by the Royal family.
Back in 2015 I was so excited to hear that Lauren Graham and Mae Whitman had teamed up to adapt The Royal We for the screen. But, I haven't heard much talk about that since, so if you know anything about that I would love to hear It! I love both of those actresses and think they would do a fabulous job!
I recently found out there is a sequel to The Royal We called The Heir Affair which I am anxious to get my hands on this July. This one picks up after the wedding and starts off with the reveal of a scandalous secret causing the people to turn on the royal couple and the queen to be upset.
I am so sad I was unable to attend this book club, but I have Mackenzie Parks here to answer a few questions.
Why did you choose this book? I asked the group at our December meeting if anyone had a good romance suggestion for February and this is the one that got voted for! I think It was actually Meggie who suggested It!
What was one thing you loved about this book? And, one thing you didn't care for? I through this book was VERY engaging. There were times I couldn't stop, wondering what was happening to all of the characters while I was away! I thought some of the characters and their story lines just weren't good or necessary. But that was maybe one or two pretty small characters, so It didn't detract from the book as a whole.
You were so creative in your hosting… tell us about your book club night. Since the book is set in Britain, I wanted to do a nod to that so I made Joanna Gaines' beef stew for dinner, ordered a dozen mini British flags from Amazon for decoration around the house, and had a whole bunch of Cracker Jacks boxes for dessert (a key element in the book).
If you had to choose actors to play the two main characters, who would you cast? Oh gosh. We talked about this that night. I wish I remembered what everyone said! According to Google, Lauren Graham and Mae Whitman (mother daughter duo on Parenthood) were going to adapt the book into a movie in 2015. They said Mae would play Bex and People magazine wanted Eddie Redmayne to play Nick. Personally I don't think he fits the bill physically but that's what they think!
Would you recommend this book to others? I would! For being a "thick" book It was such a quick read and so fun throughout. I can't wait for the sequel to come out this Summer!
Thanks for reading with us! I hope you enjoy this one!
See Similar Posts Here…